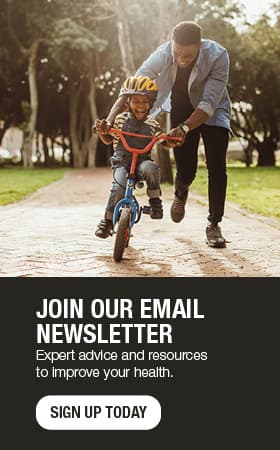 Feeling fantastic after minimally invasive heart valve surgery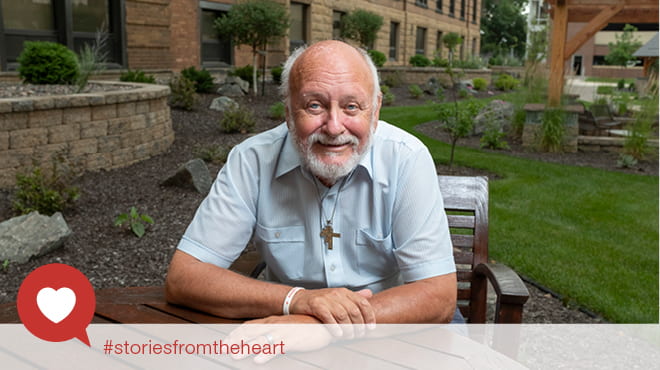 When James Tembrock, 73, of St. Cloud, Minnesota, learned he would need heart valve surgery, he says he never dreamed his search for a less-invasive option would lead him to Eau Claire, Wisconsin. But he's glad it did.
"Around three years ago, my primary physician noticed a gurgling sound in my heart," James says. "An echocardiogram showed my aortic valve was obstructed." It was something to keep an eye on.
As the valve became more constricted, James began to experience the symptoms of heart failure.
"I was starting to feel short of breath," James says. During a drive through the Rocky Mountains in Colorado, the high altitude and ozone level amplified his symptoms.
"I was getting really short of breath and afraid I wouldn't be able to go across the Continental Divide," James says. "My heart valve was at one quarter its normal size at that point."
SEARCHING FOR OPTIONS
James, who holds a master's degree in nursing and worked for 35 years at the Veterans' Administration hospital in St. Cloud, Minnesota, knew there were less-invasive valve replacement procedures that did not require open-chest surgery. Having earned his first nursing degree at Mayo Clinic's Rochester campus, he knew where to call. James' wife, Sheila, made the call and was told the procedure was offered at Mayo Clinic Health System in Eau Claire.
"I said, 'Eau what?'" Sheila says.
In Eau Claire, James was connected with Robert Wiechmann, M.D., a cardiothoracic surgeon who told James he could perform the procedure through a 5-centimeter incision between the ribs. Minimally invasive aortic valve replacement is technically challenging and offered by few surgeons.
"Given the option, people are thrilled not to have their chest cracked open," Dr. Wiechmann says. "With this procedure, there is less pain. They can recover faster, and get back to lifting, working and normal activity in half the time or less."
A PERSONAL CONNECTION
James and Dr. Wiechmann discovered they had something else in common: Both attended St. John's University in St. Cloud, Minnesota. James also served as land use manager at St. John's, where Dr. Wiechmann had enjoyed spending time outdoors.
"That was a nice connection for us," says Dr. Wiechmann.
"We had a bond of trust because of that," says James. "And we were able to catch up on all the 'Johnnie' (St. John's) news."
A GOOD CANDIDATE
Patients who only need valve replacement may be candidates for the minimally invasive procedure, Dr. Wiechmann says. Those who need a combination of valve and bypass surgery or those who have had a previous right chest or lung operation would not be candidates.
After meeting Dr. Wiechmann, James was sure he was doing the right thing in pursuing the surgery.
"I knew that if I didn't have it, I would die," James says. "My confidence was very high. Dr. Wiechmann performs this surgery all the time. That is a big factor you look for in a surgeon."
Dr. Wiechmann says James' medical background helped him ask good questions, and his research paid off in finding an option that worked well for him.
James and Sheila say their spiritual needs were also met during their time in Eau Claire.
"We loved the spiritual care that was available and the kind, compassionate care for hospital patients and families," says James, who holds a master's degree in theology and studied for the priesthood. James especially appreciated the hand-illuminated St. John's Bible on display at the hospital. Sheila found comfort visiting the nearby Sacred Heart of Jesus - St. Patrick Parish adoration chapel while James was in surgery.
FEELING FANTASTIC
James says he was happy with his quick recovery after surgery.
"I was in quite good shape right away," James says. "About a day and a half after surgery, Dr. Wiechmann looked me in the eyes and said, 'Mr. Tembrock, you're going to feel fantastic by tomorrow morning.' When he came back, I said, 'I'm ready to go. I'm out of here.'"
James and his wife were so happy with his care in Eau Claire that Sheila went there for a second opinion on an issue with her wrist. They also have recommended Mayo Clinic Health System to other family members.
"The whole experience was amazing," says Sheila. "The care that he received was awesome."
"It was definitely worth it," says James.