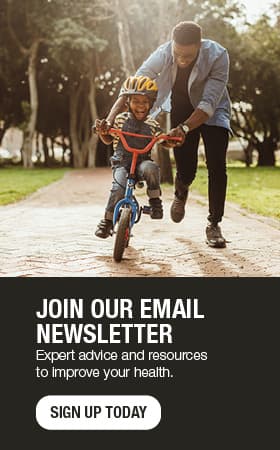 Father-daughter team loses 80 pounds with help from Mayo Clinic Diet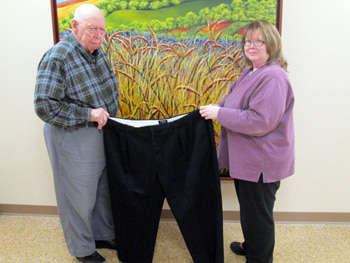 Kathryn Miller has struggled with weight issues all her life, periodically trying diets but never finding a plan that worked for her long-term.
"A couple different times I've lost enough weight to be happy with myself," says Kathryn, a 59-year-old accountant from Barron, Wisconsin.
Two years ago, she and her father, Ken, moved her mother into a nursing home. She'd suffered from cancer and Alzheimer's disease and later passed away.
"After she died, I sort of went off the wagon, and I gained a lot of weight," Kathryn says. "I just didn't care."
Meanwhile, Ken, 96, had put on weight ever since he stopped working. "It all came on after I retired – all that good coffee and cake and cookies," says Ken, a former landfill operator.
One day, Kathryn saw an ad in the local paper for Mayo Clinic Health System's weight management classes and decided to take action.
"I called the number, got a hold of somebody and they set me up with classes. I came home, and I said to dad 'You know what, Dad? We're making a change here,' " says Kathryn, noting that her father lives with her.
Since enrolling in the Mayo Clinic Diet classes, both Kathryn and Ken have each lost more than 40 pounds. The Mayo Clinic Diet focuses on a person's overall health, not just food. It focuses adopting new healthy habits to accomplish weight loss goals.
Kathryn reports feeling much better at her lighter weight, as does her father. In fact, she says she's seen him take on tasks he's never attempted before, such as walking around their cul-de-sac.
Ken, who volunteers regularly at Mayo Clinic Health System-Northland in Barron, says a recent volunteer stint put just how much weight he'd lost into perspective.
"The other morning at the hospital I picked up 40 pounds, and I can't imagine carrying that 40 pounds around all day long," says Ken, who puts groceries away in the kitchen and was carrying brown sugar that day.
At age 96, Ken is the oldest student Lisa Willkom, R.N., has ever had in her nutrition classes, and she says he's a shining example of how it's never too late to better your health.
"To have a 96-year-old lose this much weight is phenomenal," says Willkom, who facilitated the initial 10-week class the Millers took and additional sessions they're continuing to take. "It just shows that no matter how old you are, you can still make small changes and have it make a huge difference in your life."
Willkom says the classes follow the food pyramid, focusing on adding new habits and changing old ones.
"Our program teaches a way of eating for a lifetime," she says. "It's not a fad. It's an eating plan."
Being surrounded by others with like-minded goals propels people's weight loss quests – and Willkom finds that losing weight is easier and more effective when people have a support system in place.
"Accountability is tremendous, and all the research shows that," she says.
Both Ken and Kathryn want to lose 10 to 20 pounds apiece and plan to continue with subsequent sessions of Mayo Clinic diet classes. Willkom supports them all the way.
"They both have been so very, very delightful," she says. "The two of them are such an inspiration to everyone else in the class."