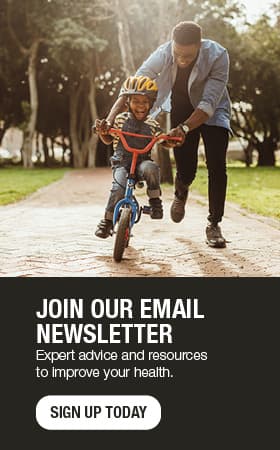 Dick Dalton is back on the hunt after near-death encounter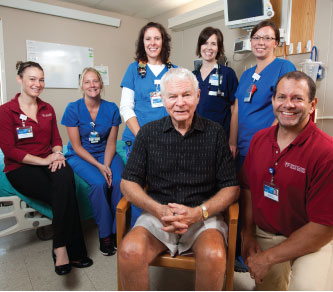 After being knocked down by a motorcycle on Highway 52, Dick Dalton was lifted up by his family, friends and a team of caregivers in Cannon Falls and Rochester.
In the spring, Dick Dalton's thoughts turn to mushroom hunting.
"It's addictive," says Dalton of the quest to find morel mushrooms, which are prized for their flavor and can be tough to find.
In April 2012, Dalton had stopped to search one of his favorite hunting grounds. He found nothing, so he headed back empty-handed to his car, parked across Highway 52.
"I looked, saw a red car, waited for it to pass, stepped onto the highway and was clobbered by a motorcycle," says Dalton. "I flew, the driver flew, and from there I don't remember a thing."
Emergency responders transported Dalton to the Emergency Department in Cannon Falls, where staff stabilized him. He was airlifted to Mayo Clinic in Rochester where he began receiving treatment for his injuries, which included two broken legs, broken ribs, and numerous internal injuries. Doctors told his wife, Kathy, that Dalton had less than a 10 percent chance of survival.
"Dick's injuries were extensive," says Darcy Reber, a Family Medicine nurse practitioner in Cannon Falls and Dalton's primary care provider. "I was astonished by his survival, and I think his spirit has a lot to do with it."
Reber says medical staff also contributed to his recovery.
"The first responders and emergency team in Cannon Falls were there with skillful rescue maneuvers in Dick's most critical hour," she says. "Then, a team of specialists came together in Rochester to save his life."
Dalton "had the right treatment at the right time," says Curt Beissel, a physical therapist.
Beissel became part of Dalton's care team once he returned to Cannon Falls to continue his recovery through the Mayo Transitional Care program. The program allows patients recovering from injuries or illnesses to receive medical care and rehabilitation at a facility close to their home.
Dalton was thrilled that the program was an option.
"It was so good to be home," he says of the return to Cannon Falls just three weeks after the accident. "I was surrounded by people I knew. I've known a lot of the people who took care of me my whole life."
Being close to family and friends is good medicine in itself, says Beissel.
"The comforts of familiar faces and being around the people you know and love can be very calming and healing," he says.
Over the summer, Dalton had physical and occupational therapy sessions with Beissel and his colleagues. After 12 weeks, he was able to return home and resume many of his favorite activities.
"One of Dick's goals was to be on the sidelines for the Cannon Falls' Bombers football games, and he made it," says Reber. "It was great to see him there."
And this spring, he was back hunting morels again.