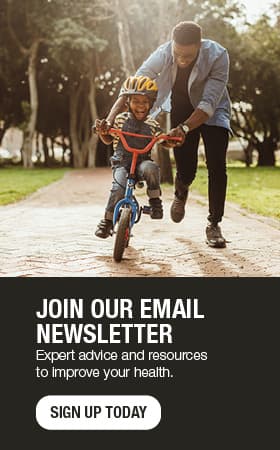 Determination, willpower help Mike Krueger manage diabetes
Mike Krueger's life began to change before he even knew it. With twin grandchildren soon to be born, Mike's wife, Bev, urged her husband to go in for his Tdap vaccination and a physical. At that appointment, his Family Medicine provider at Mayo Clinic Health System in Springfield, conducted some routine blood tests. One of those tests indicated Mike's blood sugar was elevated. In fact, he had type 2 diabetes.
"It was semi-traumatic for me," recollects Mike, 62, a longtime farmer in the Springfield area.
After his diagnosis, he met with Teresa Hensch, a certified diabetes educator, and Linda Carruthers, a registered dietitian nutritionist, who provided Mike with thorough education and a plan to achieve better health.
Mike brought with him an unmatched determination to manage his newly identified condition without medication. He was committed to improving his situation with healthy lifestyle choices.
"He caught on easily, and we knew he was ready to change," says Teresa of Mike's first visit with her and Linda. "He took the initiative to take control of his health."
Taking control was exactly what Mike did — with the help of his wife and his health care team, of course. The biggest immediate change was his diet.
"Our first trip to the store (after the diagnosis) took hours," Bev says with a laugh. "He wasn't a big fruit or vegetable eater. Now, he's been eating better, and we started reading labels."
Mike has also been exercising more. The combination of increased physical activity and a portion-controlled, nutritious diet has resulted in him losing more than 50 pounds, having more energy and managing his Type 2 diabetes without the use of any medications.
His health care team says he knew from day one he didn't want pills and serves as a good example that you can be successful if you want to be successful.
Mike's self-control and willpower have been instrumental in his continued success. His previous snacking staples — soda and candy bars — no longer are part of his diet. He and Bev note that he now paces himself at meals, which is essential when practicing good eating habits.
"People think lifestyle changes aren't obtainable," says Linda. "But Mike is an example that lifestyle changes are obtainable."
Mike and Bev have learned the foundation of a diabetic diet, which is carbohydrate counting, according to Linda. They eat healthy, move more and are more cognizant of their overall well-being. Teresa and Linda agree his story is encouraging to them as health care professionals, but Mike sees his improvements through a pragmatic lens.
"You don't know in the beginning if you can succeed or not," says Mike. "It's not a miracle; you have to work at it."
He plans to keep working to be healthier every day. And his wife, four children and 16 grandkids offer an extra bit of motivation.