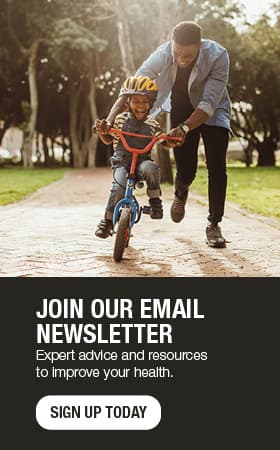 Collaboration returns girl to ice for tournament play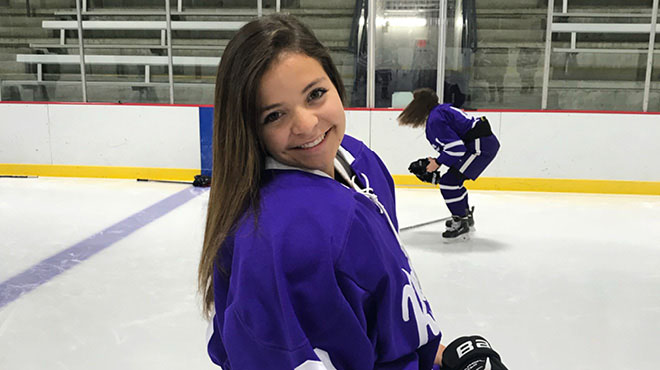 Ever since stepping on the ice at age 8, Maria Haley has had a love for the game of hockey. As an original member of the first girls' U8 hockey team in Red Wing, Minnesota, Maria has spent countless hours at the rink practicing and conditioning over the years. Her commitment to the game and her team helped the Red Wing Wingers earn a trip to the Minnesota State High School League Girls' Hockey Tournament during her sophomore year of high school.
With hopes of returning to the state tournament her senior year, Maria and her team practiced faithfully. One afternoon while scrimmaging a week before section finals, Maria took a slap shot to the head. Although wearing a helmet, the puck somehow managed to wedge its way underneath her helmet, striking her directly behind the ear.
Upon impact, Maria fell to the ice. Her head was bleeding. "I felt like the entire rink was spinning, and I heard a loud ringing in my ears as soon as the puck hit me," says Maria.
Kathy Sheehan, a certified athletic trainer at Mayo Clinic Health System in Red Wing, was at the high school when she heard about the accident. She immediately made her way to the rink to assess the situation.
Kathy, along with the hockey coaches, helped Maria off the ice and into a chair where she slowly took off Maria's equipment and quickly evaluated her. Meanwhile, Maria's mother, Barb Haley, had been contacted and arrived at the rink. Although an ambulance was called, it was determined that it was safe for Maria to ride with her mother to the Emergency Department at Mayo Clinic Health System in Red Wing.
Collaborative care
Maria had a CT scan to look for any skull fractures and was evaluated for a concussion — both of which were ruled out. Emergency Medicine nurse practitioner Heidi Harms stitched the wound behind Maria's ear, and together, they talked about hockey. "Even though Maria was in a lot of pain and freezing cold, Heidi did an excellent job at calming her through their conversation around hockey," says Barb.
Maria was then given a tetanus booster shot to defend any bacterial toxins and anti-nausea medication to help settle her upset stomach. Just a few hours later, Maria was discharged and sent home to rest. The following day, Maria had follow-up appointments with her long-time pediatrician Eric Schnaith, M.D., and Paul Irwin, a physical therapist and certified athletic trainer. Dr. Schnaith thoroughly examined Maria, which included sending her for an MRI scan. Although there was no indication of trauma to the head, Dr. Schnaith scheduled an appointment for Maria to be seen by Brian Coyle, M.D., in Otorhinolaryngology (Ear, Nose & Throat).
---
"I am forever grateful to all of the providers who had a hand in helping me get back on the ice for a strong and memorable finish to my senior year." — Maria Haley
---
During her physical therapy appointment, which is common practice after any athlete sustains a head injury, Paul conducted a concussion assessment. Because Maria had completed a baseline concussion exam previously, Irwin was able to compare her baseline exam results with the current assessment. While a concussion was ruled out, it was determined during that assessment that Maria was experiencing inner ear, or vestibular, issues.
Within hours of that diagnosis, Maria was seen by Emily Flaaen, a physical therapist who specializes in vestibular rehabilitation. Vestibular rehabilitation is a specialized form of physical therapy that helps improve balance and reduces problems related to the inner ear. During her first session with Emily, Maria was diagnosed with a concussion to the inner ear resulting in benign paroxysmal positional vertigo, a sudden sensation that you're spinning or that the inside of your head is spinning. Over the course of the next week, Emily worked with Maria to help stimulate and retrain the vestibular system through canalith repositioning. After her rehabilitation sessions, Maria felt well enough to attend Snow Week at her high school where she was part of the senior royalty.
A week after her inner ear concussion diagnosis, Maria woke up to the same dizziness, loss of hearing and nausea she had previously experienced; but this time, it was her right side. Back at the medical center, Emily was able to reposition the crystals in Maria's inner ear to help alleviate the symptoms.
Back on the ice
Ten days after taking a puck to the head, Maria had her stitches removed and was cleared to get back on the ice — just in time for section finals.
"I may have been a bit timid my first few days back on the ice, but during the final section game, I was back to my old self," says Maria.
"Getting Maria back on the ice only 10 days after her accident is actually quite amazing. Everything seemed to fall into place," says Barb. "The comprehensive care and the collaboration among the providers she saw at Mayo Clinic Health System in Red Wing prove that the system does work."
The Red Wing Wingers girl's hockey team ended up winning that final game, earning another trip to the state tournament where they took fifth place in their class.
"I am forever grateful to all of the providers who had a hand in helping me get back on the ice for a strong and memorable finish to my senior year," says Maria.