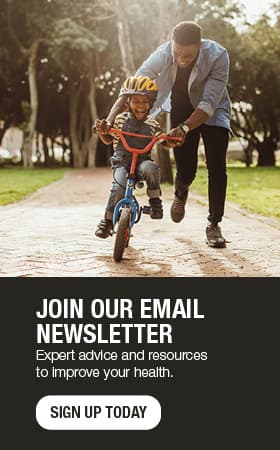 Centering Pregnancy program offers a unique model of prenatal care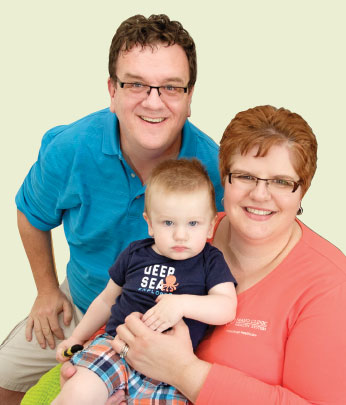 Allison Spencer was excited about becoming a new mother. But at 35, she was older than most of her friends had been when they started their families. So she sometimes felt alone in her excitement.
"Our friends all have older kids," Allison says. "We didn't feel like we had anyone to talk to about what we were going through. And we weren't sure what to expect."
Then she and her husband, Jason, learned about Mayo Clinic Health System's Centering Pregnancy program in Onalaska, which brings together women who have similar due dates for shared prenatal appointments and education. The couple was especially drawn to the idea of meeting people who were at the same stage of life, so they decided to sign up for the program.
"It was the best thing ever," says Allison, an insurance verification specialist at Mayo Clinic Health System in La Crosse. "We got to ask questions, share experiences and meet new friends.
It's a wonderful program, and we loved the midwife, Jen Meyers, and nurse, Kandi Holt, who ran our classes."
Women who enroll in Centering Pregnancy meet once or twice each month with the same group of other mothers-to-be. Their partners are encouraged to come to the appointments as well. Each Centering Pregnancy appointment lasts 90 minutes and includes an education component, question-and-answer session and healthy snack. Each woman also has an appointment with a certified nurse midwife for measurement checks, sonograms and an opportunity to ask questions in private.
"The meetings were laid back, but there was structure to them," says Allison. "I definitely felt like we got our questions answered. And it was great to feel like we weren't going through pregnancy alone."
For many women, Centering Pregnancy provides all the prenatal care they'll need. But for Allison, a history of blood clots meant her pregnancy was considered high risk. For that reason, she also met with Dayna Schwarz, M.D., an obstetrician/gynecologist in La Crosse, throughout her pregnancy.
Two weeks before her due date, Allison began to experience headaches and visual changes — both potential symptoms of preeclampsia, a condition that causes a dangerous elevation in blood pressure. The only treatment for the condition, which can be fatal to both mother and baby, is delivery. Jennifer McElroy, D.O., an obstetrician/gynecologist in La Crosse, induced Allison's labor on Sunday, June 1, and Grady John Spencer arrived two days later.
"We could not have asked for better care," says Allison. "Our entire experience was hands-down amazing. I've had friends who had children elsewhere and they're truly jealous of our experience."
Today, the new family is doing well.
"Grady is an extremely happy baby with a phenomenal temperament," says Allison, who has stayed in touch with the families she met through Centering Pregnancy. "It's so much fun to see how their babies are growing, too."