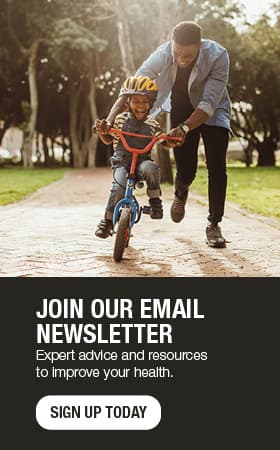 Cancer patient receives one-of-a-kind gift for Wilson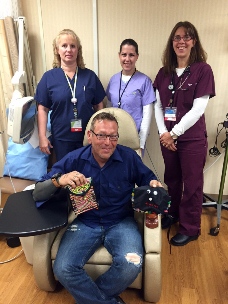 Steve Hofstede looks forward to showing off his new Wilson chemotherapy bag (left), compliments of his nurses at Mayo Clinic Health System – Northland in Barron, including Gaylene Monson, Tammy Loos-Skarpness and Stacy Cole. They invited medical lab technician Alicia Bourget (not pictured) to help design the gift.
It's not every day that a man gets a bejeweled bag.
For Steve Hofstede of Rice Lake, it brought some much needed laughter and enjoyment to his chemotherapy treatments at Mayo Clinic Health System – Northland in Barron.
The 37-year-old has a chemotherapy infusion pump that he carries with him that slowly delivers a controlled amount of drugs into his bloodstream. The pump fits into a bag and is carried over the shoulder.
When he first got the pump and bag, he joked with his nurses that he was naming it Wilson after the 2000 film Cast Away with Tom Hanks. While stranded on a deserted island, his character finds a Wilson volleyball, names it Wilson and talks to it like a personal companion.
Hofstede said he thought of drawing a face and tall, spikey hair to represent his own version of Wilson.
That's when his nurses, Stacy Cole and Tammy Loos-Skarpness, stepped in and bejeweled the bag that carries his chemotherapy pump. Wilson now had a face and many bright-colored beads. They surprised him with the bag at his next appointment.
"I thought it was the best thing ever," Hofstede says. "My friends all said it was awesome."
Later, when he brought in a new bag that fit on his belt, he immediately insisted that it be decorated, as well.
With this new task, the nurses decided they needed more artistic talent and involved Alicia Bourget from the hospital's Pathology Department. Using puff paint, she covered the black bag in a colorful design, along with the words "strength, bravery, courage and spirit" to provide encouragement to Hofstede during his cancer battle.
The bag's design was topped off with "Wilson" on it, of course.