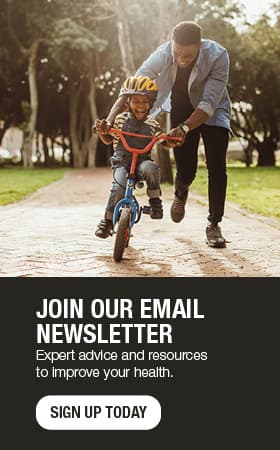 Busy mom finds virtual appointments convenient option for prenatal care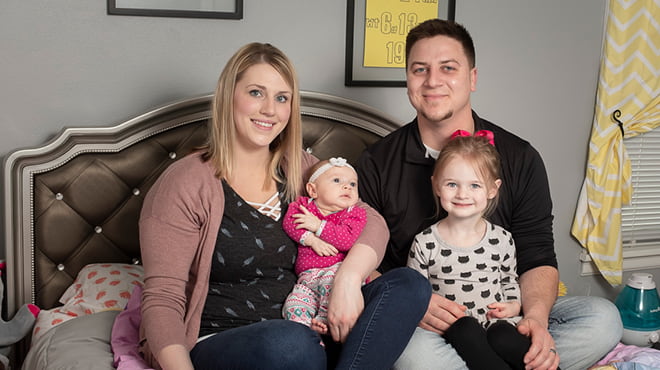 Working full-time, organizing a hectic household and chasing around a 3-year-old do not leave much time to spare in a day. So when busy expectant parents Brianna and Ryan Rachick learned a second baby was on the way, they jumped at the chance to enroll in a convenient and time-saving prenatal care option offered through Mayo Clinic Health System in Eau Claire, Wisconsin.
Mayo Clinic OB Nest, a new prenatal care model developed at Mayo Clinic, is an alternative way of approaching routine obstetrical care. The program combines traditional prenatal care office visits with in-home monitoring, which involve communicating with an obstetrics nurse over the phone or via a secure online portal.
Enrolled patients are given a blood pressure cuff and fetal Doppler to monitor their baby's heartbeat and their own blood pressure throughout the pregnancy, which they report to and review with their nurse. Typically, every other visit is on the telephone or through secure messaging in Patient Online Services, saving patients like Brianna multiple trips to the clinic.
TAKING AN ACTIVE ROLE IN PRENATAL CARE
"I liked the fact that I was more involved with my own care and monitoring my own child," says Brianna, 30, of Eau Claire, Wisconsin, who works at Mayo Clinic Health System in Eau Claire as a personal care assistant and technician in the Gastroenterology Department. "And I loved the freedom of not having to physically come in for every single appointment, especially having a toddler at home. That was a huge benefit to me — being able to jump on the computer anytime throughout the day to give my vitals and go over any concerns was incredibly convenient."
During her online visits, Brianna provided her weight, blood pressure reading, baby's heart rate and other information to a Mayo Clinic OB Nest nurse, who would then review her care plan and offer education on pregnancy-related topics and what to expect at that point in her pregnancy, such as how headaches can be common at 16 weeks, what normal fetal movement is like at 24 weeks or how blood pressure often becomes lower in the second trimester. Should a nurse have a concern, he or she would then consult with the patient's provider. Brianna developed gestational diabetes but says it was well-controlled.
"How obstetrical care has been delivered has been unchanged for at least 30 years," says Jennifer Bantz, M.D., medical director for the Family Birth Center in Eau Claire and Brianna's OB-GYN. "About eight years ago, Mayo Clinic said, 'Hey, let's try a different model of obstetrical care for our healthy, low-risk moms.' They started the Mayo Clinic OB Nest program, published their research and found that women who participated in the program had the same outcomes as women who had traditional prenatal care visits and actually were more content."
Many obstetric patients have other children at home and find it inconvenient to arrange childcare or work full time and feel guilty about having to miss work. Some patients live a distance away or in rural areas, making travel — especially during the snowy winter — particularly challenging, says Dr. Bantz.
With a successful program underway at Mayo Clinic's Rochester campus, the program expanded to Eau Claire, La Crosse and Menomonie in Wisconsin, and Mankato, Minnesota. Since Eau Claire program's April 2018 launch, 185 women have enrolled and 52 have delivered.
"Our patients really love it," Dr. Bantz says. "It's a great option. A lot of the moms tell me they just feel a lot more interaction and more involved in their obstetrical care."
GETTING THE WHOLE FAMILY INVOLVED IN PRENATAL CARE
For the Rachicks, it wasn't just Brianna who felt more involved. Her husband and older child, Layla, also did.
"I was able to let them use the fetal Doppler and find Evenee's heartbeat. You could just see them light up when they were able to do that," Brianna says. "Having them involved that way was really good, and I think it opened Layla up even more to the understanding that a new baby was coming here."
Layla's little sister was born on Jan. 8, with all adjusting well to the new family dynamic. Layla is loving and protective of Evenee.
"They've got a very good connection," Brianna says.
Brianna, who had the experience of traditional prenatal care with her first child and now Mayo Clinic OB Nest for her second, says she personally prefers the Mayo Clinic OB Nest option, which she found more conducive to her lifestyle. However, she recognizes that not all patients feel the same and may prefer face-to-face contact.
Dr. Bantz says the program is intended for healthy women ages 18 to 36 with low-risk pregnancies. Patients may join the program at their first provider visit if they qualify.
Brianna says she applauds Mayo Clinic for developing the new prenatal care method for patients.
"I'd definitely recommend it," she says. "I think it's a good step for them to take this upon themselves to offer this to families."
Dr. Bantz says she's simply proud to be able to offer the program.
"This is really unique program that we offer in Eau Claire, La Crosse, Mankato and Menomonie," she says. "It's a great opportunity for our patients and a great experience. We are just ecstatic to see this be as successful as it has been."