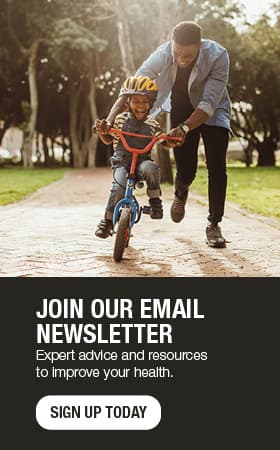 Bride walks down the aisle after brain surgery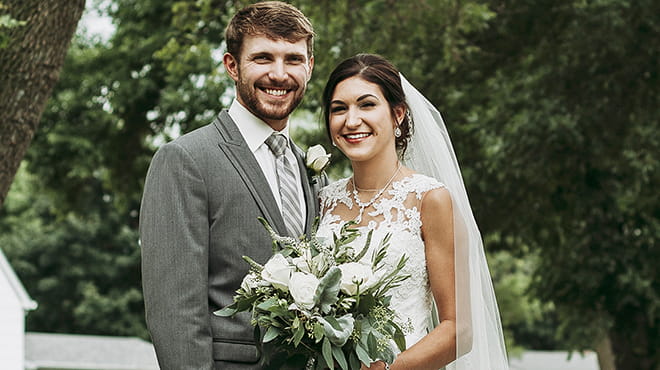 While planning for one of the most important days of her life in early May, Christina Jensen received a surprising diagnosis: a golf ball-sized brain tumor behind her right ear.
"I was so dizzy," says Jensen. "I knew something was up."
Jensen, 24, of Watertown, South Dakota, had been experiencing extreme vertigo and vomiting, which eventually prompted a visit to the emergency department. A native of Blue Earth, Minnesota, Christina sought care in early May at Mayo Clinic Health System in Mankato, Minnesota, where Manish Sharma, M.B.B.S., became her neurosurgeon.
"The tumor was quite large, and it was causing numerous symptoms, such as extreme dizziness, impaired vision, headache and nausea," says Dr. Sharma.
Christina's tumor — a hemangioblastoma — was benign. This type of tumor grows slowly, but it already was putting significant pressure on her brain.
"The skull doesn't allow room for a tumor to grow, so it pushes back on the brain," says Dr. Sharma. "A 2-inch tumor in the lower part of the brain can compromise the brain stem, which is responsible for breathing, swallowing and even consciousness."
Dr. Sharma determined immediate removal of the tumor was necessary. The eight-hour surgery was harrowing for Christina's parents and fiancé, who had been warned that any complications with a surgery in that area of the brain can have catastrophic consequences.
Christina jokes that she mostly was concerned with keeping her hair because of her impending nuptials. Dr. Sharma agreed to only have a patch clipped and allowed her to keep most of her hair.
"The surgery was very successful," says Dr. Sharma. "The tumor was completely removed."
Still, with just a couple of months before her wedding, Christina had some healing to do. She temporarily experienced decreased vision in one eye and hearing loss, and couldn't walk well. However, she was determined to walk down the aisle at her wedding unassisted, so she fought hard from the beginning to regain strength and mobility.
"I was not going to use a walker to go down the aisle," says Christina.
And on her Aug. 10 wedding day, about three months after surgery, she didn't have to. Covered in lace and holding white roses, Christina's dad steadily led her, arm in arm, down the aisle. All the while, beneath her gown she wore a pair of bedazzled Crocs instead of heels, for extra stability.
"I have to congratulate her on a truly phenomenal recovery," says Dr. Sharma. "She was walking the day after surgery, which was amazing."