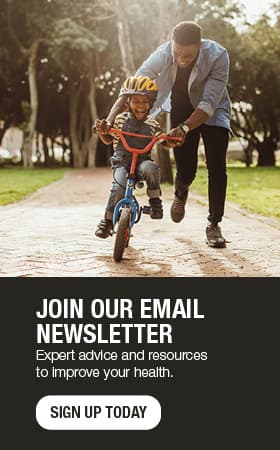 Baseline concussion testing helped prevent Lake City football player from returning too soon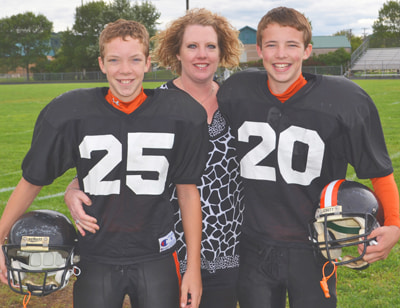 Grant, along with his mom, Mary, and his twin brother Riley, look forward to finishing their 8th grade football season with a winning record. From left: Riley, Mary and Grant Borgschatz.
A hard fall
It was a beautiful summer day in mid-August, and with just a few short hours before their summer was officially over and the hustle and bustle of football practice began, the Borgschatz family of Lake City, Minn., decided to sneak out on the Mississippi River for a day of fun on the water. Jim and Mary, along with their twin sons, Grant and Riley (14), and a few family friends, loaded the boat and headed down the river towards Wabasha, Minn.
The kids took turns tubing and wakeboarding behind the boat; an activity they loved and looked forward to doing during the summer months. It was now Grant's turn on the wakeboard and as his dad drove the boat and his mom watched his every move, he hit a wave and fell hard into the water.
As Grant made his way back into the boat, he complained that it felt like a million pins were poking his head. Mary noticed that he was unsteady on his feet and was not making complete sense as he spoke. She immediately contacted Grant's primary care provider Kayla Dascher, a nurse practitioner at Mayo Clinic Health System in Lake City. Dascher recommended they take Grant to the nearest emergency department to be tested for a concussion.
On the ride to the emergency department, Grant repeatedly told the same story and was very disorientated and confused. He had no recollection of the accident itself and was very emotional. As Mary witnessed the odd behaviors her son was experiencing, she silently thought to herself that if the accident had to happen, now was the perfect time. Just two days prior, she had taken the boys in for their ImPACT baseline concussion test. "I can't stress enough the importance of getting the baseline concussion testing for your child(ren)," says Borgschatz.
A baseline concussion test is a pre-season exam conducted by a trained health care professional that measures an athlete's memory, attention and concentration, problem solving skills and processing speed. Baseline concussion testing is not mandatory for young athletes to participate in sports, but comes highly recommended by health care professionals and coaches.
In the emergency department, Grant had an initial concussion test and a CT scan. Even though Grant passed the physical part of the test, he was only able to answer 50 percent of the questions correctly, which proved he had a concussion. The results from the CT scan determined that there were no brain bleeds or broken bones.
Grant was released to go home, but he had a list of strict instructions from the doctor, which included a follow up appointment with Rehabilitation Services within the next week. Mary was also told to wake him every couple of hours during his first night home and restrict all electronics for the first three days, as any brain stimulation may cause a setback. The first few days, Grant complained of a terrible headache and neck pain, but as the week went on the pain dulled and he physically he felt great.
Communication and collaboration
Just one week after his baseline concussion test, Grant had an appointment with Jill Tacl, a physical therapist at Mayo Clinic Health System in Lake City, to determine his readiness to return to football. "Grant's story provides an excellent illustration of the significance of taking a baseline concussion test. The test provided baseline data and allowed us to track his cognitive recovery to determine his readiness to return to sport. Grant and his parents were very proactive in the management of his concussion, which most likely helped to decrease his physical symptoms, such as headache, sensitivity to light/noise, irritability and fatigue," says Tacl. "Cognitively, Grant took longer to recover. Once his physical symptoms had improved, we went ahead and did a post-concussion ImPACT test. His performance was considerably different than his baseline numbers. This helped us determine he was not safe to return to activity."
"The results of the test were very eye-opening to us. Due to Grant feeling physically ready to play, we would have sent him back to practices and games too soon. The results showed he was not cognitively ready," says Borgschatz.
Even though Grant was looking forward to getting back on the field with his friends, he continued with the return to play protocol and was re-tested later that week and deemed appropriate for return to activity. With a bit of apprehension, Grant started out slow at practice by tossing the ball around with his teammates, but having no physical contact.
"He only played a few minutes his first game back and was somewhat hesitant on getting hit, but by the next game he played with his normal intensity and even scored a touchdown," says Borgschatz. "I have to admit I still hold my breath every time he touches the ball, but I think that goes for every parent watching their child participate in a sport."
Communication and collaboration amongst Grant's support team were key factors in getting him the help he needed and back on the playing field safely, says Grant's mom. "The communication and team work that went on behind-the-scenes between Dascher, Tacl and Coach Sweeney was truly amazing. They were all working towards the same goal – to have Grant return to play – but, ensured us his health and safety came first."
Back on the field
Today, Grant is back on the field and in full football mode. He says, "I want all athletes to know that concussions don't just happen to football players; they can happen when playing soccer, falling off of your bike, or even wakeboarding behind a boat." Grant's piece of advice to all fellow athletes would be, "Don't be afraid to tell somebody if something doesn't feel right or you're having symptoms of a concussion. It's better to be safe than sorry."