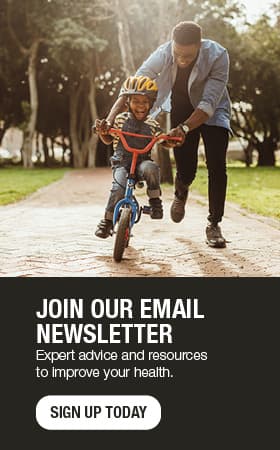 Austin patient active as ever after surprising cardiac event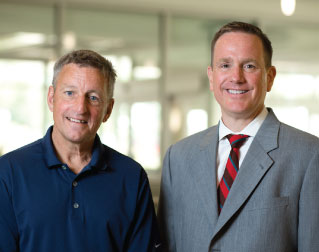 Most people find joy in their countdown to retirement, looking back at the years they've invested and looking forward to the next chapter of life.
But when Robert Stratton, then a Hormel executive from Austin, went into cardiac arrest while sleeping in January 2010 -- two months from his 60th birthday and possible retirement -- he had only one challenge: staying alive.
Out of nowhere
"At approximately 3 a.m. I was asleep," says Stratton (pictured at right, with Dr. Andrew Moore). "I was gasping for air so my wife, Wendy, immediately called 911. When I regained consciousness eight days later, I was in Rochester and had no idea what had occurred."
Stratton's heart had stopped due to a 90 percent arterial blockage but, fortunately, the first responder arrived within five minutes. The police officer happened to be a paramedic and stabilized Stratton with a defibrillator before the ambulance arrived.
"I would have died if the officer weren't a paramedic," Stratton says.
Quick transitions
Mayo Clinic Health System staff in Austin transferred Stratton to Mayo Clinic. A winter storm kept helicopters grounded, so he was transported to Rochester, Minnesota, by ambulance. During the trip his heart stopped once more and ambulance staff revived him again.
Staff at Mayo Clinic Hospital - Saint Marys Campus were concerned about the lack of oxygen from Stratton's heart having stopped. "They stabilized me and put a stent in," he says, "but given the fact my heart had stopped twice, there was concern about organ and brain damage." Stratton's body needed to cool to prevent this damage, so he was put into induced hypothermia.
"It's a protocol called Arctic Sun, or therapeutic hypothermia that slows down metabolism," says Andrew Moore, M.D., a cardiologist on the Austin campus of Mayo Clinic Health System ­- Albert Lea and Austin, who cared for Stratton during recovery. "It's used to help prevent the damaging effects of hypoxia (oxygen deprivation) to tissues by cooling the body down."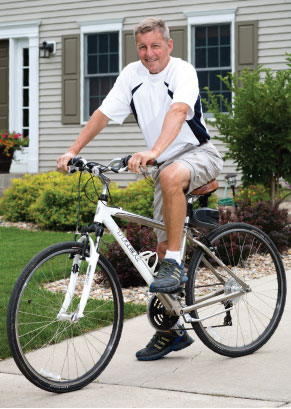 Land of the living
When Stratton finally regained consciousness, he had no memory of what had happened, and asked, "Am I going to die?"
On the contrary, he was fully stabilized and there was no damage to his organs or brain. Although he was weak and needed a walker, he was released the next day.
With or without warning
Stratton doesn't have a family history of heart disease, and is a former athlete. He has always been an active, fit nonsmoker with a healthy weight. Why did this happen?
"While frequently we can identify specific risk factors for coronary artery disease that are likely responsible for a patient's myocardial infarction (heart attack), it is not that unusual to have a seemingly quite healthy patient like Robert experience a cardiac event, and we just can't pinpoint an obvious cause," says Dr. Moore. "Fifty percent of people in this situation don't make it to the hospital."
Why me?
Dr. Moore says a significant part of cardiac recovery is patient follow-up. "The initial outcome is doctor-driven, but after that it's up to the patient to take the ball and run with it," he says. "Some patients don't do that -- but Robert has been an ideal patient."
Albeit a bit sooner than he had anticipated, Stratton retired after the event to spend more time with his family and focus on his health. "I'm probably more active now because I have more time to be," he says. After recovery, Stratton took a three-day hike into the Grand Canyon, and last winter he climbed a 5,000-foot mountain in Arizona.
Although cardiac arrest took Stratton completely by surprise, he says he takes things in stride and is much quicker to put things into perspective now.
"Right after it happened, I asked, 'Why me?' But now I say, 'Lucky me.'"