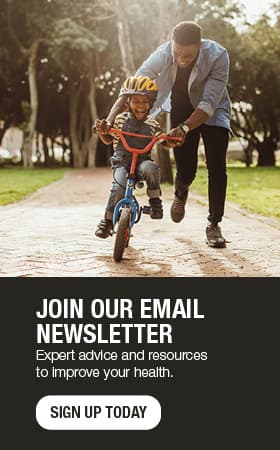 After beating cancer, it's a former patient's turn to lead her doctor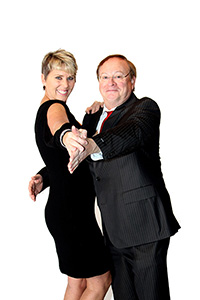 Mitzi Roberts, 48, of Mankato, Minnesota, has been a dancer all of her life. And she's made dancing her livelihood too. Roberts has owned the Dance Express dance studio for 23 years. On top of her penchant for dancing and operating her business, she decided three years ago to add a Mankato-based dance competition fundraiser to her list of to-dos. However, she wasn't prepared for the challenge that would arise during the planning stages of the event's second year. In October 2013, Roberts was diagnosed with breast cancer.
"It took the wind out of my sails for a day or two," Roberts says of the diagnosis.
But she quickly turned a corner and started thinking more optimistically. Roberts continued planning for the 2014 Dancing with the Mankato Stars, which she said helped keep her mind off the negative, and also found hope in her Mayo Clinic Health System in Mankato oncologist, Kevin Cockerill, M.D.
"Dr. Cockerill's positive outlook was very helpful," adds Roberts. "He only talked about the best-case scenarios. He didn't let my mind go to the dark place."
Now, after successful treatment and two popular events, Roberts visits Dr. Cockerill for other reasons — as his 2015 Dancing with the Mankato Stars dance partner. Roberts gets a little choked up when she articulates what it's like to enter the doors of Mayo Clinic Health System in Mankato after beating breast cancer.
"Coming as a partner versus coming as a patient — totally a full-circle moment," says a misty-eyed Roberts.
Dr. Cockerill led Roberts through her journey, and now it's her turn to lead him on the dance floor. They've grown their relationship, and the chemistry between the two is palpable.
"It's not surprising for an oncologist to become close friends with a patient," says Dr. Cockerill. "I get to know these people sometimes better than certain family members. There's nothing more rewarding as an oncologist than to be a part of a patient's life. I'm honored."
Dr. Cockerill compliments Roberts' drive and positivity, both with the event and her battle with cancer. In fact, he uses the word "heroic" to describe her.
"To devote yourself to such a charity when you yourself have had so many troubles, it's extraordinary," says Dr. Cockerill.
On Feb. 13 at the Verizon Wireless Center in Mankato, the two-person team donned their dance gear, cued the music and competed in Dancing with the Mankato Stars to raise money for the American Red Cross. Roberts and Dr. Cockerill scored a perfect 30 and received the judges' choice award.
While gliding across the stage step-by-step, hand-in-hand, they were reminded that their connection will always be deeper than a dance routine.