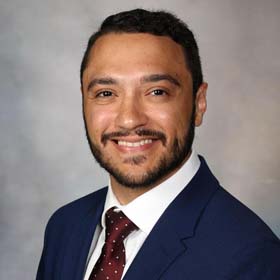 Learn more about me:
Appointment Information
Eau Claire, WI
Clairemont Campus Clinic
733 W. Clairemont Ave., Eau Claire, WI 54701

Appointments
Provider's Bio
I am a patient-centered and evidence-based endocrinologist. I see every patient as unique, and no single treatment fits all. My goal is to partner with you to understand your individual health care needs and then work together to design a personalized treatment plan that fits in your life. I do that by listening to you and your concerns, answering your questions, empowering you to learn about your condition and then work with you to tailor a treatment for you. Along the way, I leverage technology as a tool in our conversations to apply the latest medical research towards making a shared informed decision.
I enjoy taking care of my patients and getting to know them as they get to know me.
I grew up in Canada with Egyptian heritage, attended medical school in Ireland, residency in Massachusetts and fellowship in Minnesota before finally calling the Midwest home. During my training, I developed expertise in the care of patients with complex endocrine conditions and studied ways to better understand how to find the right treatment for each patient. I work with my colleagues in Rochester to create tools to use in the clinic that aim to help patients and doctors make medical decisions that best suit them.
I am a team player and enjoy working with other doctors, nurses and members of the health care team to take care of my patients. In my free time I enjoy spending time with my family, travel, being outdoors and playing soccer.
Training & Credentials
Medical School
Royal College of Surgeons in Ireland
Internship
Internal Medicine, University of Massachusetts Medical School – Baystate Medical Center
Residency
Internal Medicine, University of Massachusetts Medical School – Baystate Medical Center
Fellowship
Endocrinology, Diabetes & Nutrition, Mayo Clinic
Certifications
Endocrinology, Diabetes and Metabolism, American Board of Internal Medicine
Internal Medicine, American Board of Internal Medicine
Masters in Lipidology, National Lipid Association
Silver Quality Certification, Mayo Clinic Quality Academy
Memberships
American Association of Clinical Endocrinology
American College of Physicians
Endocrine Society
Publications Committee, American Thyroid Association
Scientific Journal Responsibilities: Reviewer for BMJ Case Reports, Endocrine Practice, Thyroid Journal
Academic Appointment
Assistant Professor of Medicine, Mayo Clinic College of Medicine and Science
Special Interests
My clinical focus is the treatment of all endocrine disorders. I have a particular interest in thyroid disease, such as thyroid nodules, thyroid cancer, Graves' disease, thyroid eye disease and Hashimoto's thyroiditis, as well as diabetes. I am interested in using bioinformatics technology to guide individualized medical decision making in the care of endocrine diseases.
Some of the endocrine conditions I treat include:
Adrenal disease
Continuous glucose monitor (CGM)
Cushing syndrome
Diabetes mellitus
Fine needle aspiration of thyroid nodules (FNA) biopsy
General endocrinology
Graves' disease
Hashimoto's thyroiditis
High calcium (hypercalcemia)
Osteoporosis
Pituitary disease
Thyroid cancer
Thyroid nodules
Thyroid ultrasound
Research & Publications
Find More Providers