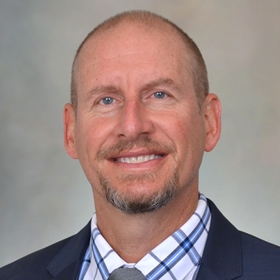 Appointment Information
Barron, WI
Hospital and Clinic
1222 E. Woodland Ave., Barron, WI 54812

Appointments
Eau Claire, WI
Hospital
1221 Whipple St., Eau Claire, WI 54703

Appointments
Menomonie, WI
Hospital and Clinic
2321 Stout Road, Menomonie, WI 54751

Appointments
Provider's Bio
I understand that the first time you meet me it may be a stressful time for you. People often are in a lot of pain and fear more pain with treatments, which is quite understandable. I will try to alleviate those anxieties to the best of my ability, and provide safe, expedient and quality care.
I have had my own issues with back pain over the last couple of years. I practice in yoga, Pilates, daily physical fitness and a diet focused on weight control. I enjoy a wide range of different activities, but I have had to eliminate certain activities I used to enjoy because of back pain. Pain can be reduced, but not always eliminated, with an appropriate lifestyle.
In my free time, I am on the board of deacons at Peace Lutheran Church.
Training & Credentials
Medical School
University of Nebraska Medical Center–Omaha
Education
University of Nebraska–Lincoln
Internship
Rotating, University of Wisconsin–Madison
Residency
Anesthesiology, University of Wisconsin–Madison
Certifications
American Board of Anesthesiology
American Board of Pain Medicine
Memberships
American Academy of Pain Medicine
American Society of Anesthesiology
Spinal Intervention Society
Senior Instructor, Spinal Intervention Society
Find More Providers