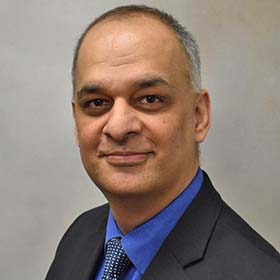 Locations & Services
Albert Lea, MN
Hospital and Clinic
404 W. Fountain St., Albert Lea, MN 56007
My services at this location:
Mankato, MN
Hospital and Clinic
1025 Marsh St., Mankato, MN 56001
My services at this location:
Provider's Bio
My patients typically experience a multidisciplinary, team-based approach. A working diagnosis is established after a thorough history and clinical examination, supplemented by appropriate testing. Operative and nonoperative management is guided by individual need, is patient specific and collaborative. My patients can anticipate a clear and unbiased discussion of risks versus benefits, both in the short- and long-term.
In my personal life, I enjoy exploring new genres of music and film, kayaking, traveling, playing soccer, basketball, and speed chess.
Training & Credentials
Medical School
Jawaharlal Institute of Post Graduate Medical Education & Research, India
Residencies
Surgery, Post Graduate Institute of Medical Education & Research, India
Neurosurgery, All India Institute of Medical Sciences, India
Fellowships
Clinical fellowship, Peripheral Nerve Surgery, Mayo Clinic, Minnesota
Research fellowship, Gamma Knife Radiosurgery, University of Pittsburgh Medical Center, Pennsylvania
Certification
Educational Commission for Foreign Medical Graduates (ECFMG)
Memberships
American Association of Neurological Surgeons
Congress of Neurological Surgeons
Special Interests
Community integration after surgery for brain trauma
Gamma Knife radiosurgery
Neurosurgery
Peripheral nerve surgery
Spinal stenosis
Surgery for brain tumors
Trans nasal surgery for pituitary tumors