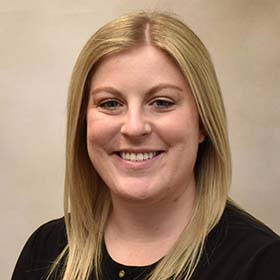 Appointment Information
Mankato, MN
Hospital and Clinic
1025 Marsh St., Mankato, MN 56001

Appointments
Provider's Bio
The opportunity to provide personalized and educated health care for my patients while building caring relationships is what drew me to midwifery. My goal is to empower my patients to be the drivers and decision makers of their own health care, pregnancy and birth journeys. While being involved in several birth centers, I gained a profound respect and understanding of physiology during labor and birth.
I aim to bring my birth center knowledge to the hospital setting to better support and encourage my patients for the birth they desire. In the office setting, I believe preventive care is the cornerstone of midwifery care. I am passionate about discussing contraception options and want to ensure my patients are able to access their preferred method.
I grew up in a small town in Tennessee where I lived until I moved to Nashville for college. I enjoy exploring the Mankato area and dining in the local restaurants. In my free time, I spend time with my dog, Spencer, a toy Australian shepherd. I also love to read, and my current favorite genres are fantasy and contemporary fiction.
Training & Credentials
Education
Master's degree, Midwifery, Vanderbilt University School of Nursing
Certifications
Midwifery, American Midwifery Certification Board
Membership
American College of Nurse-Midwives
Find More Providers