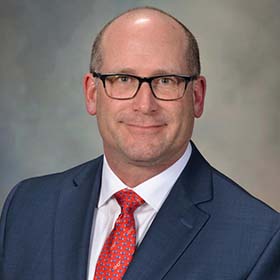 Appointment Information
Mankato, MN
Hospital and Clinic
1025 Marsh St., Mankato, MN 56001

Appointments
Provider's Bio
Surgical problems of the human body have changed very little over time. However, our approach to this nearly static set of problems has improved rapidly over my career. It is my sincere commitment to continue to be useful in the development of those approaches for the benefit of the patients and the surgeons who use them.
My philosophy is to provide the very best care by the humble application of my skills, intellect and concern for each patient as an individual.
I grew up in a farming environment, and hard work was the expectation. Helping others was valued more than showing material wealth. When not at work, I enjoy spending time with my wonderful family, working on home repair, playing with my dog or making a thing that my wife wants.
I am in constant awe of the grandeur of trees. I appreciate the advances in outerwear that have allowed me to get outside in almost any kind of weather. If I were in any other field, it would be one that uses creativity to improve the lives of others (e.g., art, invention, construction, machining unique parts, hospitality).
Training & Credentials
Education
University of Nebraska College of Medicine
Internship
General Surgery, Mayo Clinic School of Graduate Medical Education
Residency
General Surgery, Mayo Clinic School of Graduate Medical Education
Certification
American Board of Surgery
Membership
Find More Providers