Need to make an appointment?
Otorhinolaryngology (Ear, Nose & Throat)
Otorhinolaryngology
You and your family deserve the best care. That is why the ear, nose, and throat (ENT) experts at Mayo Clinic Health System in Onalaska collaborate every day to give you the benefit of Mayo Clinic care close to home.
Call us with questions or to schedule your appointment. No referral is necessary.
Our ENT team provides consultation, diagnosis and treatment of ear, nose, head, throat and neck disorders in children and adults. These conditions directly affect hearing, speech, breathing, balance, taste and smell — functions that are essential to a good quality of life.
Collaboration
We work together as a team, collaborating daily on patient concerns and situations. Our team works closely with these departments or areas of focus to provide you with comprehensive and coordinated care:
Locations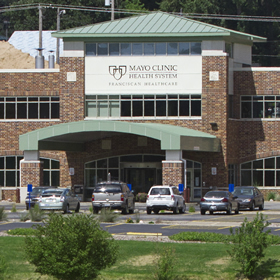 Clinic
191 Theater Road, Onalaska, WI 54650
Hours:

Mon-Fri:

9:00 AM - 4:00 PM