Need to make an appointment?
Dermatology
Dermatology
Dermatology staff at Mayo Clinic Health System in Onalaska provide comprehensive care for all types of skin diseases, including atopic dermatitis (eczema), psoriasis, acne, rosacea, warts, and diseases of hair and nails. We also care for more serious conditions such as lupus, dermatitis herpetiformis, cutaneous lymphoma, immune blistering diseases, hypersensitivity diseases with skin manifestations, diseases that involve the oral cavity and mucous membranes. We treat many conditions that require complex medical therapy, including isotretinoin, methotrexate, cyclosporine, acitretin, thalidomide, mycophenolic acid, and injectable biologics.
Our services include assessments for:
Skin cancer screening or skin exams — includes evaluation for basal cell, squamous cell, and melanoma skin cancers. It is estimated that more than one million Americans develop skin cancer every year. Melanoma is the most serious of all skin cancers.
Actinic keratosis — a precancerous skin growth or lesion caused by cumulative exposure to the sun. This skin growth is at the earliest stage in the development of skin cancer and is very treatable.
Moles — moles are evaluated; if abnormal a biopsy may be done. Normal mole removal is considered cosmetic and the patient will be charged for this procedure.
Rosacea — causes redness, pustules, papules, and swelling of the skin on the face. What is some times called "adult acne."
Scabies — caused by a tiny mite and causes fiercely itchy skin condition. Skin scraping may be needed for diagnosis. Is usually contagious for all in the household.
Acne — a skin condition, which can result in plugged, pores, inflamed pimples, and deeper lumps. Acne occurs on the face, neck, chest, back, shoulders, and upper arms.
Eczema or atopic dermatitis — can be a chronic hereditary disorder associated with irritation of the skin that can cause intense itching and rash formation on the skin. Scratching often leads to redness, swelling, cracking, "weeping" of clear fluid, crusting, and scaling of the skin. Intensely itchy patches form, which can be widespread or limited to a few areas.
Psoriasis and psoriatic arthritis — persistent, inflammatory skin condition
Clinical treatments offered:
Phototherapy light treatment: for psoriasis, vitiligo, pruritus, cutaneous T cell lymphoma, eczema
Excimer light treatment: atopic dermatitis, vitiligo, psoriasis
Blue Lite treatment: used to treat actinic keratosis. Patient has Levulan applied to the area with actinic keratosis and about 2-4 hours later has Blue Lite to that area. Will result in red, sunburned-like skin, which may or may not blister, but will heal well.
Excision of skin cancer: removal of basal cell, squamous cell, or melanoma to obtain clear margins.
Locations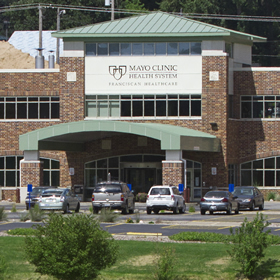 Clinic
191 Theater Road, Onalaska, WI 54650
Hours:

Mon-Fri:

7:00 AM - 5:00 PM