We are experiencing high call volumes:
Use your account on the Mayo Clinic app or patient portal to check symptoms, get care recommendations and make an appointment.
Need to make an appointment?
Orthopedic Surgery
Foot & Ankle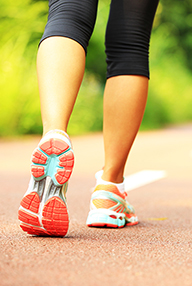 If you're experiencing problems or pain with the skin, muscles, ligaments, nerves and bones of the foot and ankle, our comprehensive team of foot and ankle specialists can help you get back on your feet — pain free.
Our orthopedic providers will address injuries, such as fractures, sprains and strains. We'll also treat general aches and pains acquired through daily and recreational activities. We may try nonoperative techniques, such as physical therapy and braces. Surgery may be necessary for tendon repair, fracture care, reconstruction and arthroscopy, a procedure for diagnosing and treating joint problems.
Additionally, our team includes a podiatrist who can assist with common foot and ankle needs.
Quick check: Use the foot or ankle pain symptom checker to find possible causes of your pain.
Plantar Fasciitis, one of the most common causes of heel pain, involves inflammation of a thick band of tissue that runs across the bottom of your foot and connects your heel bone to your toes. Plantar fasciitis often causes stabbing pain that usually occurs with your first steps in the morning. As you get up and move more, the pain normally decreases, but it might return after long periods of standing or after rising from sitting. It is more common in runners. In addition, people who are overweight and those who wear shoes with inadequate support have an increased risk of plantar fasciitis.