Advanced surgical care
Less pain and quicker healing
Need to make an appointment?
Surgery
Robotic Surgery in La Crosse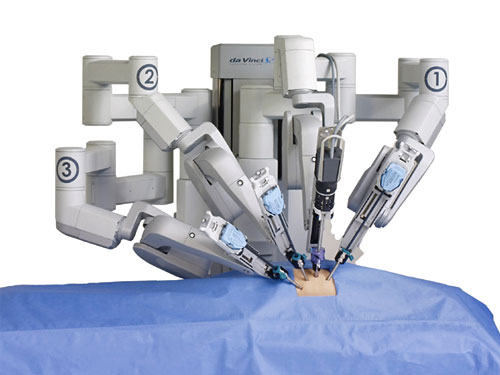 The da Vinci surgical system provides surgeons with an alternative to traditional open surgery and conventional laparoscopy, putting the surgeon's hands at the controls of an advanced robotic platform. The system helps surgeons perform even the most complex, delicate procedures through small incisions with superior precision.
Surgeons conduct robotic surgery using this robotic system, which includes a camera arm and several interactive mechanical arms, with joints that work like a human's wrist. Your surgeon guides the procedure from a remote console a few feet from the surgical table. Your surgeon views the surgical area in a 3D magnified view on a monitor, which offers greater depth perception and detailed views than does open surgery.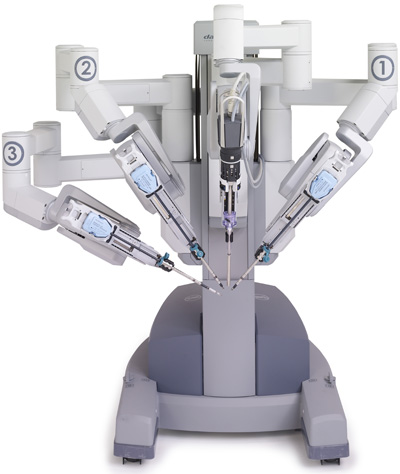 From the remote console, your surgeon uses two hand-and-finger devices to precisely direct the mechanical arms at the operating table. Your surgeon leads a trained surgical team during the surgery.
Surgeons have more flexibility, control and maneuverability using the surgical instruments in robotic surgery than in traditional minimally invasive surgery. Using robotic surgery, surgeons can perform delicate and complex procedures that may have been difficult or impossible with other techniques.
Traditional open gynecologic surgery using a large incision for access to the uterus and surrounding anatomy has been the standard approach to many gynecologic procedures for years. However, patients of open surgeries can experience significant pain and trauma, long recovery times and threats to surrounding organs and nerves.
Through 1–2 centimeter incisions, your surgeon using the da Vinci system can operate with greater precision and control, and minimize pain and risk associated with large incisions.
Patient benefits of robotic surgery include:
Less pain
Less blood loss
Less scarring
Shorter recovery time
Faster return to normal activities
Better clinical outcomes in many cases
Talk with your health care provider to determine if you are a candidate for surgery using the da Vinci robot.