Breathe easy with
expert ENT care.
Need to make an appointment?
Otolaryngology (ENT)/Head and Neck Surgery
Nasal Polyps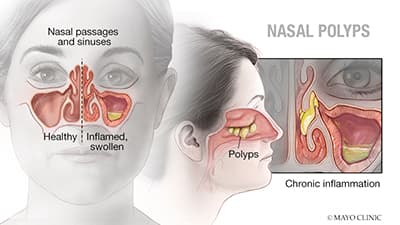 Nasal polyps are soft, painless, noncancerous growths on the lining of your nasal passages or sinuses. They hang down like teardrops or grapes. They result from chronic inflammation and are associated with asthma, recurring infection, allergies, drug sensitivity or certain immune disorders.
Small nasal polyps may not cause symptoms. Larger growths or groups of nasal polyps can block your nasal passages or lead to breathing problems, a lost sense of smell, and frequent infections.
Nasal polyps can affect anyone, but they're more common in adults. Common signs and symptoms of chronic sinusitis with nasal polyps include:
A runny nose
A sense of pressure over your forehead and face
Decreased or absent sense of smell
Facial pain or headache
Frequent nosebleeds
Loss of sense of taste
Pain in your upper teeth
Persistent stuffiness
Postnasal drip
Snoring
Prevention
While it is not fully understood what causes nasal polyps, you may help reduce your chances of developing nasal polyps or having nasal polyps recur after treatment with the following strategies:
Avoid nasal irritants. As much as possible, avoid breathing airborne substances that are likely to contribute to swelling or irritation in your nose and sinuses, such as allergens, tobacco smoke, chemical fumes, and dust and fine debris.
Humidify your home. Using a humidifier may help moisten your breathing passages, improve the flow of mucus from your sinuses, and help prevent blockages and inflammation. Clean the humidifier daily to prevent bacteria from growing.
Manage allergies and asthma. Follow your doctor's treatment recommendations. If your symptoms aren't well controlled, talk to your doctor about changing your treatment plan.
Practice good hygiene. Wash your hands regularly and thoroughly. This is one of the best ways to protect against bacterial and viral infections that can cause inflammation of the nasal passages and sinuses.
Use a nasal rinse. Use a saltwater (saline) spray or nasal wash to rinse your nasal passages. This may improve mucus flow and remove allergens and other irritants.
You can purchase over-the-counter saline sprays or nasal wash kits with devices, such as a neti pot or squeeze bottle, to administer a rinse.
Treatment
Chronic sinusitis, with or without polyps, is a challenging condition to clear up completely.
If you suffer from nasal polyps, you can work with our ENT care team to develop the appropriate long-term treatment plan to manage your symptoms and to treat factors, such as allergies, that may contribute to chronic swelling (inflammation).
The treatment goal for nasal polyps is to reduce their size or eliminate them. Medications are usually the first approach.
If medications or drugs don't shrink or eliminate nasal polyps, you may need endoscopic surgery to remove polyps and to correct problems with your sinuses that make them prone to inflammation and the development of polyps.
In endoscopic surgery, one of our ENT providers inserts a small tube with a lighted magnifying lens or tiny camera (endoscope) into your nostrils and guides it into your sinus cavities. He or she uses tiny instruments to remove polyps and other substances that block the flow of fluids from your sinuses.
Our ENT providers may also enlarge the openings leading from your sinuses to your nasal passages. Endoscopic surgery is usually performed as an outpatient procedure.