Breathe easy with
expert ENT care.
Need to make an appointment?
Otolaryngology (ENT)/Head and Neck Surgery
Rhinitis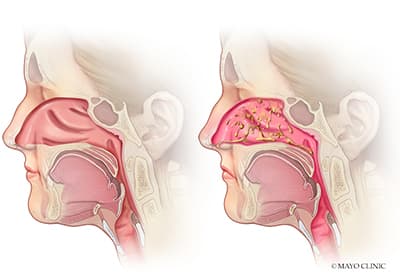 Rhinitis is the inflammation or irritation of the tissues that line the inside of your nose. Symptoms of rhinitis include runny or stuffy nose, coughing, mucus in the throat and sneezing. These symptoms are the nose's natural response to the irritation.
Nonallergic rhinitis
Nonallergic rhinitis occurs when no obvious irritant or allergen is present and can seem to start with no apparent cause. One of the most common conditions causing nonallergic rhinitis is the common cold. However, nonallergic rhinitis can be caused by certain odors or irritants in the air, changes in the weather, some medications, certain foods, and chronic health conditions.
Allergic rhinitis
Allergic rhinitis, also known as hay fever, occurs due to an allergic response to outdoor or indoor allergens such as pollen, dust mites, or pet dander. Unlike nonallergic rhinitis, allergic rhinitis can also cause itchy nose, roof of mouth, or throat. Your allergic rhinitis signs and symptoms may start or worsen at a particular time of year. Triggers include:
Tree pollen (common in early spring)
Grass pollen (common in late spring and summer)
Ragweed pollen (common in fall)
Dust mites, cockroaches and dander from pets (year-round/perennial - symptoms caused by dander might worsen in winter when houses are closed up)
Spores from indoor and outdoor fungi and molds (considered both seasonal and perennial)
Treatment
Treatment of nonallergic rhinitis depends on how much it bothers you. For mild cases, home treatment and avoiding triggers may be enough. For more-bothersome symptoms, certain medications may provide relief including nasal sprays and decongestants. For treatment of allergic rhinitis, over-the-counter oral antihistamines may help to alleviate your symptoms.
In some cases, surgical procedures may be an option to treat complicating problems.
Nasal cryotherapy
Cryotherapy, or cold therapy, is an innovative, minimally invasive treatment for rhinitis. Cryotherapy uses an endoscope and cryotherapy device to freeze nerves in your nasal passages. When the cold temperature hits the nerves, the nerve signals are interrupted and no longer tell the nose to swell, drip and run. The interruption of the nerve signals provides long-lasting relief from runny or stuffy nasal symptoms. Cryotherapy can provide patients with symptom relief for up to a year or longer.
Nasal cryotherapy can be performed at Mayo Clinic Health System in La Crosse and Onalaska. Learn more about nasal cryotherapy or schedule a consultation.