Breathe easy with
expert ENT care.
Need to make an appointment?
Otolaryngology (ENT)/Head and Neck Surgery
Earwax Blockage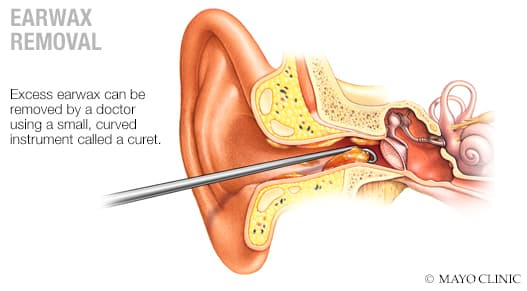 Earwax blockage occurs when earwax accumulates in your ear or becomes too hard to wash away naturally.
Earwax is a helpful and natural part of your body's defenses. It cleans, lubricates, and protects your ear canal by trapping dirt and slowing the growth of bacteria.
If earwax blockage becomes a problem, you or your doctor can take simple steps to remove the wax safely. Signs and symptoms of earwax blockage may include:
Coughing
Decreased hearing in the affected ear
Dizziness
Earache
Feeling of fullness in the affected ear
Ringing or noises in the ear (tinnitus)
If you're experiencing the signs and symptoms of earwax blockage, talk to one of our ear experts.
Signs and symptoms could indicate another condition. You may think you can deal with earwax on your own, but there's no way to know if you have excessive earwax without having someone — usually a health care provider — look in your ears. Having signs and symptoms, such as earache or decreased hearing, doesn't necessarily mean you have wax buildup. It's possible you have another medical condition involving your ears that may need attention.
Wax removal is most safely done by a health care provider. Your ear canal and eardrum are delicate and can be damaged easily by excess earwax. Don't try to remove earwax yourself with any device placed into your ear canal, especially if you have had ear surgery, have a hole in your eardrum, or are having ear pain or drainage.
Children usually have their ears checked as part of any medical examination. If necessary, a health care provider can remove excess earwax from your child's ear during an office visit.
Treatment
Our ENT providers can remove excess wax using a small, curved instrument or by using suction while inspecting the ear. Our providers can also flush out the wax using a water pick, or a rubber-bulb syringe filled with warm water.