Intensive Care (Critical Care)
Intensive Care (Critical Care)
The goal of the staff in the Mayo Clinic Health System Franciscan Healthcare Intensive Care Unit/Critical Care Unit is to provide comprehensive and appropriate care on a 24-hour basis to the critically ill patient.
ICU/CCU provides care to patients throughout the life span:
Infants/toddlers
Adolescents
Young to older adults
Geriatric
Intermediate care
The ICU/CCU provides medical care to diverse patient populations: cardiac, general surgical, trauma, neuro, neurosurgical, medical respiratory, infectious, psychiatry & psychology, intermediate level, and other patients who require specialized nursing care and services such as post anesthesia recovery patients when the Post Anesthesia Care Unit is not available to take additional patients.
Enhanced Critical Care
Enhanced Critical Care is a program designed to improve care, shorten hospital stays and provide an additional layer of care closer to home for Critical Care patients. In addition to being cared by a local team, patients are remotely monitored by specially trained physicians and nurses working at an operations center at Mayo Clinic in Rochester, Minn
Specialty services within ICU/CCU:
Continuous Renal Replacement Therapy
Hypothermia for post cardiac arrest patients
Post Pulmonary Vein Isolation/Ablation patients.
Our Critical Care providers also work in collaboration with Hospital Medicine and Internal Medicine staff.
For additional information please contact the La Crosse Switchboard at 608-785-0940 and ask for the Intensive Care Unit.
Locations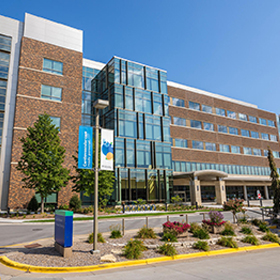 Hospital
700 West Ave. S., La Crosse, WI 54601
Hours:

Mon-Fri:

8:00 AM - 5:00 PM
Emergency Hours:

Open 24 hours