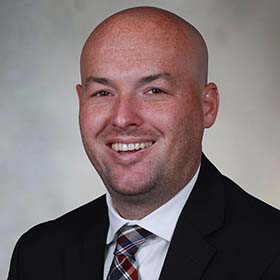 Appointment Information
La Crosse, WI
Clinic
800 West Ave. S., La Crosse, WI 54601

Appointments
Hospital
700 West Ave. S., La Crosse, WI 54601

Appointments
Provider's Bio
On average, we take over 23,000 breaths per day. For most, this activity is performed without second thought. However, for those with underlying lung disease, each breath can be a painstaking and anxiety-provoking task that significantly affects one's quality of life.
As a pulmonologist, my goal is to take the time to actively listen to you and derive an evidence-based plan that is specifically tailored to your needs with the goal of improving your quality of life.
In addition to pulmonary medicine, I get the opportunity to take care of those admitted to the Intensive Care Unit (ICU). Being admitted to the ICU can be incredibly stressful for a patient and their family. My goal is to create open lines of communication and transparency into our care plan in order to ensure everyone feels as comfortable as possible.
Training & Credentials
Education
Kansas City University of Medicine and Biosciences
Residency
Internal Medicine, University of Kansas Medical Center
Fellowship
Pulmonary & Critical Care Medicine, University of Kansas Medical Center
Certifications
Internal Medicine, American Board of Internal Medicine
Pulmonary Diseases, American Board of Internal Medicine
Memberships
American College of Chest Physicians
American Thoracic Society
Special Interests
Asthma
Chronic obstructive pulmonary disease (COPD)
Critical care medicine
Diagnostic bronchoscopy
Endobronchial ultrasound (EBUS) bronchoscopy
Interstitial lung disease
Lung screening and lung cancer
Pleural disease
Find More Providers