Hospital Medicine
Hospital Medicine at Mayo Clinic Health System – Franciscan Healthcare.
If you are admitted as a patient to the La Crosse hospital, you may be cared for by one or more hospital medicine providers during your stay.
What is a Hospitalist?
A hospitalist is a physician or advance practice provider who specializes in caring for patients while they are in the hospital. Our hospital medicine physicians are board certified in internal medicine or family medicine. Hospitalists do not see patients outside the hospital (i.e., in the clinic) so they give complete attention to hospitalized patients. A hospital medicine provider is available 24/7 to provide care to patients in the hospital.
What are the benefits of being cared for by a Hospitalist?
Hospitalists work only in the hospital and are available, on-site, 24 hours-a-day.
Hospitalists are easily accessible in emergencies or when questions arise.
Hospitalists are familiar with our hospital processes and procedures. This allows them to easily order tests, consult other specialists and adjust treatments.
How does the Hospitalist work with my doctor?
When you are admitted to the hospital, your primary care provider will transfer the management of your care to the hospitalist team. The hospitalist team member and your provider will communicate as needed throughout your stay. Upon discharge, your primary care provider will be given a summary of your stay in the hospital, and your care will return to your primary care provider.
For more information or if you have any questions related to our hospitalist service, please ask your nurse to contact the hospitalist on call or call 608-785-0940.
Locations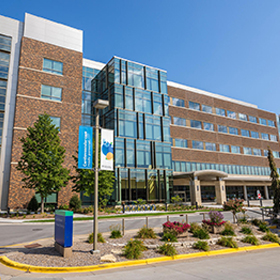 Hospital
700 West Ave. S., La Crosse, WI 54601
Hours:

Mon-Fri:

8:00 AM - 5:00 PM
Emergency Hours:

Open 24 hours