Need to make an appointment?
Mayo Clinic Health System dermatology specialists provide comprehensive care for conditions of the skin, scalp or mucous membrane. Common conditions are acne, atopic dermatitis (eczema), psoriasis, psoriatic arthritis, rosacea and warts. They also provide Mohs Surgery to treat skin cancer. With access to Mayo Clinic research and clinical trials, we are able to apply the most advanced and effective treatment for skin conditions.
Each skin condition has a cause. To us, it can signal a serious health issue such as a thyroid problem, allergy, liver disease, virus, fungus or other underlying condition. We diagnose and provide care for diseases such as lupus, dermatitis herpetiformis, cutaneous lymphomas, immune blistering diseases, hypersensitivity diseases or those involving the mouth or mucous membranes. Some require complex therapies. We provide the full range of medical treatments, from methotrexate to injectable biologics.
Because more than one million Americans develop skin cancer every year, skin cancer screening and treatment is an essential function of dermatology. We do screening, assessment, evaluation and biopsy of moles and surgical removal of basal cell, squamous cell, and melanoma skin cancers. Because early detection is so important, we encourage screening for actinic keratosis, a pre-cancerous skin growth or lesion caused by cumulative exposure to the sun. This skin growth is at the earliest stage in the development of skin cancer, when it is the most treatable.
Skin is more than a health issue. Clear, healthy skin contributes to self-confidence, just as a persistent skin condition, sun damage or imperfections can erode that confidence. Using the latest laser technology and light therapies, we resurface and rejuvenate, remove tattoos, brown spots and rosacea and treat excess hair, scars and spider veins. See Cosmetic Services for additional treatments available. The skin therapies we use are safe and very effective, using sophisticated treatments such as
Phototherapy light treatment
Excimer light treatment
Blue Lite treatment
Appointments:
Available 8 a.m.–5 p.m. weekdays.
La Crosse: call 608-392-9491
Onalaska: call 608-392-5015
Lab Results Online:
View your confidential lab results
Dermatology services are available in Arcadia, Prairie du Chien, Sparta and Tomah via facility-to-facility video visits. Learn more about facility-to-facility video appointments.
Locations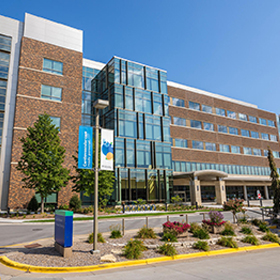 Hospital
700 West Ave. S., La Crosse, WI 54601
Dermatology Hours:

Mon-Fri:

8:00 AM - 5:00 PM
Providers