Need to make an appointment?
Surgery
Robotic Services
Hysterectomy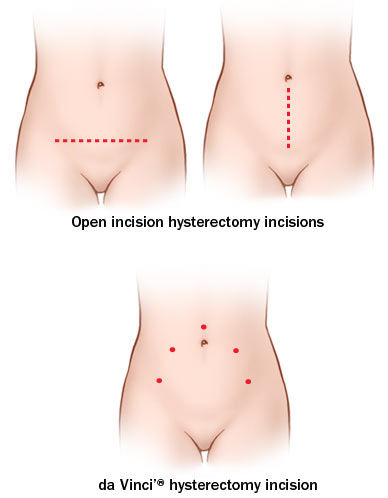 Robotic hysterectomy can be an excellent choice if you aren't a candidate for a vaginal hysterectomy. Your doctor may recommend a robotic procedure if you have surgical scars or an anatomical irregularity that limits your options.
Traditional open gynecologic surgery, using a large incision for access to the uterus and surrounding anatomy, has been the standard approach to many gynecologic procedures for years. However, patients of open surgeries can experience significant pain and trauma, long recovery times and threats to surrounding organs and nerves.

To prepare you for a robotic hysterectomy, your doctor will:
Make five small incisions in your abdomen
Insert slender surgical instruments through those incisions
Incisions for a robotic procedure are much smaller than those used for open surgery, so you'll have less tissue trauma and smaller scars than you'd have after a traditional abdominal hysterectomy. During a robotic hysterectomy procedure:
Your surgeon will use control devices to direct the surgical instruments that remove your uterus
The robotic system translates your surgeon's hand movements into precise movements at the instrument's tip
Your surgeon may also remove one or both ovaries and your fallopian tubes, depending on your condition
An assistant at the operating table repositions instruments, adds or removes surgical devices, and provides other support to your surgeon as needed
Members of the anesthesia team continually monitor your condition and comfort
Prostatectomy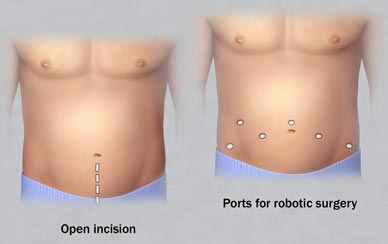 Traditional open urologic surgery, which included large incisions to access the pelvic organs, has been the standard approach when surgery is necessary. Yet common drawbacks of this procedure include significant post-surgical pain, a long recovery and an unpredictable potential for long-term impact on continence and sexual function.
Da Vinci surgery is idea for delicate urologic surgery. This includes prostatectomy where the target site is not only tightly confined but also surrounded by nerves affecting urinary control and sexual function.
During robotic prostatectomy, your surgeon sits at a remote control console a short distance from you and the operating table and precisely controls the motion of the surgical instruments using two hand-and-finger control devices. The console displays a magnified, 3-D view of the surgical area that enables the surgeon to visualize the procedure in much greater detail than in traditional laparoscopic surgery.
The surgeon can make incisions with great precision, which often leads to fast healing. The robotic approach also enables nerve-sparing techniques that may preserve both sexual potency and continence in the appropriately selected person.
Robotic prostatectomy can result in reduced pain and blood loss, reduced tissue trauma, a shorter hospital stay, and a quicker recovery period than a traditional prostatectomy. You usually can return to normal activity, with minor restrictions, two to four weeks after surgery.
Talk with your health care provider to determine if you are a candidate for surgery using the da Vinci robot. Call 715-838-5222 to schedule an appointment.