Need to make an appointment?
Pulmonology (Lungs)
Alternative CPAP Therapy in Eau Claire
If you have obstructive sleep apnea and difficulty with continuous positive airway pressure, or CPAP, therapy, upper airway stimulation therapy is an alternative option available in Eau Claire, Wisconsin. It's the only obstructive sleep apnea treatment approved by the Food and Drug Administration that works inside the body with a click of a button.
Upper airway stimulation therapy involves implanting a small device under the skin in the upper chest during a short outpatient procedure. The device, which monitors breathing while you sleep, delivers a mild stimulation when needed to keep your upper airway open. Simply press the button on the remote to activate the monitoring device when you're ready for bed. While sleeping, the device opens your airway to allow for normal breathing and a peaceful night's rest.
How is the upper airway stimulation procedure done?
In a same-day procedure, the upper airway stimulation device is inserted just under the skin with three small incisions:
In the lower chest to place the breathing sensor
In the upper chest to place the device
Under the chin to place a small cuff on the nerve that controls the tongue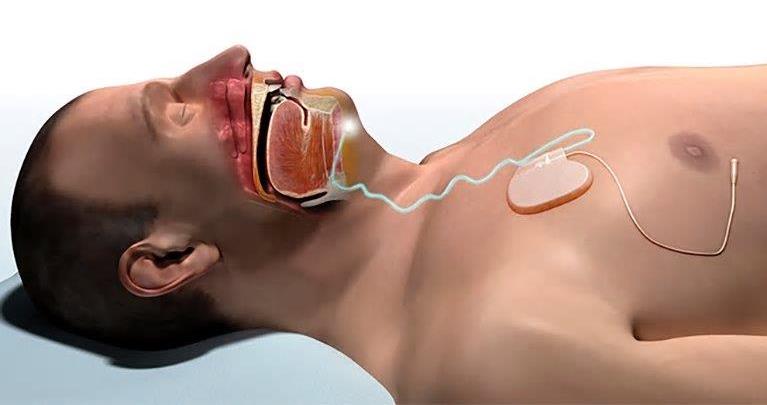 Who is eligible for upper airway stimulation therapy?
You must meet certain criteria to be considered for upper airway stimulation therapy:
18 or older
Failure or intolerance of continuous positive airway pressure (CPAP) therapy
Body mass index below 35
Apnea hypopnea index between 15 and 65
Other testing procedures completed to confirm eligibility for treatment
Patients receiving upper airway stimulation therapy will receive treatment and care by specialists in Pulmonology and Ear, Nose & Throat (Otorhinolaryngology).
Call us for more information about upper airway stimulation therapy.