Be seen by our
brain, nerve and spine experts.
Need to make an appointment?
Spine & Neurological Surgery
Spinal Tumor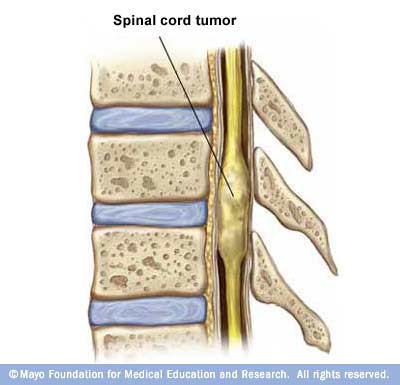 A spinal tumor is a growth that develops within your spinal canal or bones of your spine. It may be cancerous or noncancerous. Tumors that affect the bones of the spine (vertebrae) are known as vertebral tumors. Tumors that begin within the spinal cord itself are called spinal cord tumors. Tumors from other parts of the body can spread (metastasize) to the vertebrae, the supporting network around the spinal cord or, in rare cases, the spinal cord itself.
Spinal tumors or growths of any kind can lead to pain, neurological problems and sometimes paralysis. Whether cancerous or not, a spinal tumor can be life-threatening and cause permanent disability.
Treatment for a spinal tumor may include surgery, radiation therapy, chemotherapy or other medications.