Need to make an appointment?
Neurology
Epilepsy Monitoring Unit in Eau Claire
Our hospital in Eau Claire, Wisconsin, includes a four-bed Epilepsy Monitoring Unit (EMU), which is specially designated to evaluate, diagnose and treat seizures.
During a stay, you have continuous video electroencephalogram (EEG), which measures vital signs and provides an audiovisual recording of activities. An EEG detects electrical activity in your brain using small, flat metal electrodes attached to the scalp.
An EMU stay can provide your care team with critical information for the classification and evaluation of abnormal spells. It helps develop a treatment plan that works for you. It also provides a safe space to make changes to medications and for other health concerns, such as memory loss or cognitive impairments.
You are able to move freely around the room during your stay, which could last up to five days. Your neurologist will decide if an EMU stay is appropriate for you.
Watch this video tour to learn about the features of the patient rooms, and amenities for family and visitors in the Luther Building:
All patient rooms include features designed for patient comfort, such as remote-controlled music, lights, temperature and window shades; room service-style food service; flat-screen TVs with internet access; integrated charging stations for mobile devices; and free Wi-Fi. All rooms have private bathrooms with showers. Family members can relax in large lounges located on each wing, the central lobby or in the family kitchenette and eating area.
---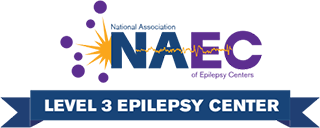 Mayo Clinic Health System in Eau Claire is accredited by the National Association of Epilepsy Centers as a level 3 epilepsy center. Level 3 epilepsy centers have the professional expertise and facilities to provide the highest level medical evaluation and treatment for patients with complex epilepsy.