Specialty care
made personal.
Need to make an appointment?
Gastroenterology & Hepatology (Digestive Care)
Pancreatitis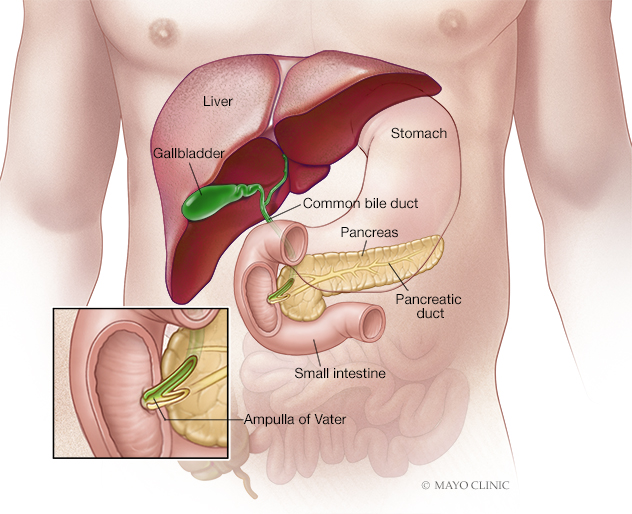 Pancreatitis is inflammation in the pancreas. The pancreas is a long, flat gland that sits tucked behind the stomach in the upper abdomen. The pancreas produces enzymes that help digestion and hormones that help regulate the way your body processes sugar.
There are two types of pancreatitis based on time of onset and duration:
Acute pancreatitis, meaning it appears suddenly and usually lasts for a few days
Chronic pancreatitis, which may start slowly over time and lasts many years
Signs and symptoms of pancreatitis may vary, depending on which type you experience.
Acute pancreatitis signs and symptoms include:
Upper abdominal pain
Abdominal pain that radiates to your back
Abdominal pain that feels worse after eating
Fever
Rapid pulse
Nausea
Vomiting
Tenderness when touching the abdomen
Chronic pancreatitis signs and symptoms include:
Upper abdominal pain
Losing weight without trying
Oily, smelly stools
Causes
Pancreatitis occurs when digestive enzymes become activated while still in the pancreas, irritating the cells of your pancreas and causing inflammation.
With repeated bouts of acute pancreatitis, damage to the pancreas can occur and lead to chronic pancreatitis. Scar tissue may form in the pancreas, causing loss of function. A poorly functioning pancreas can cause digestion problems and diabetes.
Conditions that can lead to pancreatitis include:
Alcoholism
Smoking
Gallstones
Certain medications
Genetic factors
High calcium levels in the blood which may be caused by an overactive parathyroid gland
High triglyceride levels in the blood
Pancreatic cancer
Treatment
Depending on the cause of your pancreatitis, treatment may include:
Procedures to remove bile duct obstructions
Pancreatitis caused by a narrowed or blocked bile duct may require procedures to open or widen the bile duct.
Gallbladder surgery
If gallstones caused your pancreatitis, your doctor may recommend surgery to remove your gallbladder (cholecystectomy).
Pancreas surgery
Surgery may be necessary to drain fluid from your pancreas or to remove diseased tissue.
Treatment for alcohol dependence
Drinking several drinks a day over many years can cause pancreatitis. If this is the cause of your pancreatitis, your doctor may recommend you enter a treatment program for alcohol addiction. Continuing to drink may worsen your pancreatitis and lead to serious complications.