Specialty care
made personal.
Need to make an appointment?
Gastroenterology & Hepatology (Digestive Care)
Diverticulitis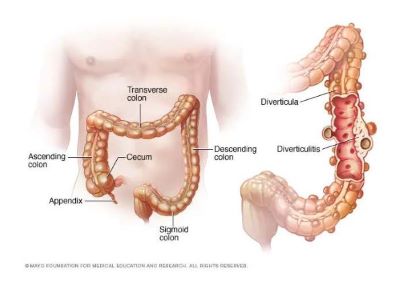 Diverticula are small, bulging pouches that can form in the lining of your digestive system. They are found most often in the lower part of the large intestine (colon). Diverticula are common, especially after age 40, and seldom cause problems.
The presence of diverticula is known as diverticulosis (die-vur-tik-yoo-LOE-sis). When one or more of the pouches become inflamed, and in some cases infected, that condition is known as diverticulitis.
The signs and symptoms of diverticulitis include:
Pain, which may be constant and persist for several days. The lower left side of the abdomen is the usual site of the pain.
Abdominal tenderness.
Nausea and vomiting.
Fever.
Causes
Diverticula usually develop when naturally weak places in your colon give way under pressure. This causes variable-sized pouches to protrude through the colon wall. At one time, it was thought that seeds and nuts caused diverticulitis, but this theory has been debunked.
Risk factors
Several factors may increase your risk of developing diverticulitis:
Aging
The incidence of diverticulitis increases with age.
Obesity
Being seriously overweight increases your odds of developing diverticulitis.
Smoking
People who smoke cigarettes are more likely than nonsmokers to experience diverticulitis.
Lack of exercise
Vigorous exercise appears to lower your risk of diverticulitis.
Diet high in animal fat and low in fiber
A low-fiber diet in combination with a high intake of animal fat seems to increase risk, although the role of low fiber alone isn't clear.
Certain medications
Several drugs are associated with an increased risk of diverticulitis, including nonsteroidal anti-inflammatory drugs, such as ibuprofen and naproxen sodium (Aleve).
Treatment
Treatment depends on the severity of your signs and symptoms.
Uncomplicated diverticulitis
If your symptoms are mild, you may be treated at home.
Your doctor is likely to recommend:
Antibiotics, although in very mild cases, they may not be needed.
A liquid or soft diet for a few days while your bowel heals. Once your symptoms improve, you can gradually add solid food to your diet.
This treatment is successful in most people with uncomplicated diverticulitis.
Complicated diverticulitis
If you have a severe attack or have other health problems, you'll likely need to be hospitalized.
Treatment generally involves:
Intravenous antibiotics
Insertion of a tube to drain an abdominal abscess, if one has formed
Surgery
You'll likely need surgery to treat diverticulitis if:
You have a complication, such as a bowel abscess, fistula or obstruction, or a puncture (perforation) in the bowel wall.
You have had multiple episodes of uncomplicated diverticulitis.
You have a weakened immune system.
There are two main types of surgery:
Primary bowel resection
The surgeon removes diseased segments of your intestine and then reconnects the healthy segments (anastomosis). This allows you to have normal bowel movements. Depending on the amount of inflammation, you may have open surgery or a minimally invasive (laparoscopic) procedure.
Bowel resection with colostomy
If you have so much inflammation that it's not possible to rejoin your colon and rectum, the surgeon will perform a colostomy. An opening (stoma) in your abdominal wall is connected to the healthy part of your colon. Waste passes through the opening into a bag. Once the inflammation has eased, the colostomy may be reversed, and the bowel reconnected.