Is he having trouble getting started?
LEARN MORE >
Need to make an appointment?
Urology
Our urology team at Mayo Clinic Health System specializes in diagnosing and treating conditions of the male and female urinary tract, and male reproductive system. The team believes in treating you with comprehensive and compassionate care — not simply treating your diagnosis or condition. We will preserve your individuality, privacy and dignity throughout your care with us.
Our urology specialists provide treatment for the following conditions:
General urologic conditions:
Male urologic conditions:
Urologic cancers:
If surgery is needed, we offer a full range of surgical treatment options with a strong emphasis on robotic and minimally invasive procedures that promote early recovery and decreased pain. State-of-the-art treatment is available for kidney, prostate and testicular cancers and diseases, as well as urologic trauma and kidney stones.
On-site video visits
Appointments for Urology are offered via on-site video visits, which reduce the need to travel far and enable patients to receive care close to home.
For an on-site video visit, patients arrive to the clinic and a nurse connects them with a specialist by live video. Our innovative technology uses a Bluetooth stethoscope, a USB otoscope and high definition cameras that can move and zoom in for a high-quality physical exam and personal conversation with the specialist.
Video appointments are currently offered at select locations in Wisconsin and Minnesota. Learn more about on-site video appointments.
Locations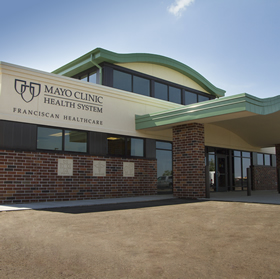 Clinic
895 S. Dettloff Drive, Arcadia, WI 54612
Hours:

Mon-Fri:

8:00 AM - 5:00 PM