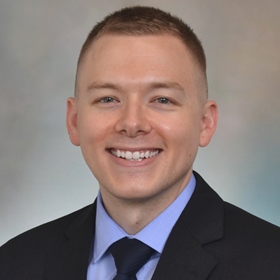 Learn more about me:
Appointment Information
Mondovi, WI
Clinic
700 Buffalo St., Mondovi, WI 54755

Appointments
Provider's Bio
I view my delivery of care to be shared. My role, above all else, is to be a source of evidence-based counseling, such that all my patients feel comfortable with their informed decisions about their health. Patients can expect my undivided attention and eagerness to clarify their questions.
I'm a humble family man, who finds purpose in serving my community and neighbors.
Training & Credentials
Medical School
Medical College of Wisconsin-Milwaukee
Residency
Mayo Clinic Family Medicine Residency, Eau Claire, WI
Certifications
Basic Life Support (BLS)
Advanced Life Support (ALS)
Advanced Life Support in Obstetrics (ALSO)
Clozapine REMS Program
MAT, Suboxone Waiver
Pediatric Advanced Life Support (PALS)
Memberships
American Academy of Family Physicians (AAFP)
Mayo Clinic Alumni Association (MCAA)
Society of Teachers of Family Medicine (STFM)
The National Guard Association of the United States (NGAUS)
Wisconsin Academy of Family Physicians (WAFP)
Wisconsin Medical Society (WMS)
Wisconsin National Guard Association, Inc. (WINGA)
Special Interests
Academic medicine and community health education
Community nutritional health and preventive wellness
Rural athletic support
Rural clinic and hospital care

Vasectomy counseling and service
IUD, birth control implant, oral contraceptive counseling and service
Prenatal care and counseling
Wound care and wound management

Skilled nursing facility medical care and directorship
Find More Providers