Need to make an appointment?
Osteopathic Manipulative Medicine
If you have pain and are seeking an alternative to medications, including opioids, or invasive surgical interventions, osteopathic manipulative medicine may be for you. Osteopathic manipulative medicine is a unique approach to your care that blends the science and art of medicine, focusing on identifying and treating the cause of your pain, not just the symptoms.
Several key principles include:
The body acts as a whole unit, not a sum of parts.
Structure and function are interrelated.
The body has an innate ability to heal itself.
A doctor of osteopathic medicine, or D.O., uses a hands-on approach called osteopathic manipulation treatment (OMT) to facilitate health and healing. These techniques are gentle and typically involve using pressure and resistance to work with the muscles, connective tissues and joints. OMT strives to restore motion, alleviate pain and support the body's structure to help it function more efficiently. Doctors of osteopathic medicine are fully licensed to practice medicine and surgery, but also have additional training in hands-on diagnosis and treatment of the musculoskeletal system.
You are treated as an individual, and treatment plans are made on a case-by-case basis.
Common conditions treated include:
Arthritis
Asthma
Back and neck pain
Constipation and reflux
Headaches
Infant colic
Pelvic pain
Pregnancy issues
Scoliosis
Torticollis (twisted neck)
Call for more information or an appointment.
Locations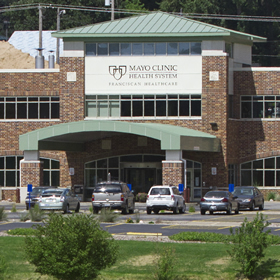 Clinic
191 Theater Road, Onalaska, WI 54650
Hours:

Mon-Fri:

7:00 AM - 5:00 PM
Providers