Urgent Care
Urgent Care in Mankato
Urgent Care relieves some of the inconvenience of unexpected minor illnesses and injuries.
We provide same-day treatment for minor health concerns, such as:
Cold and flu symptoms
Coughs, sore throats and earaches
Infections, including urinary, sinus and eye
Minor cuts, lacerations and burns
Skin conditions, including rashes, poison ivy and insect bites
Sprains and strains
Not sure if you need to use Urgent Care? Call our Nurse Line to speak with a nurse about the most appropriate care setting for your needs. The nurse may recommend one of the following options:
Always call 911 in an emergency.
Check symptoms to reduce worry
Check Symptoms is a free online symptom evaluation tool available 24/7/365. It can give you peace of mind when symptoms start to worry you. Located within Mayo Clinic's patient portal, it allows you to answer a series of targeted questions to evaluate your symptoms and receive a care recommendation.
Locations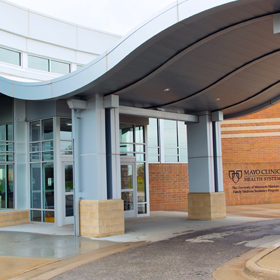 Eastridge Clinic
101 Martin Luther King Jr. Drive, Mankato, MN 56001
Clinic Hours:

Mon-Fri:

8:00 AM - 5:00 PM

Clinic hours subject to change on holidays.
Urgent Care Hours:

Mon-Sun:

8:00 AM - 7:30 PM

No appointment necessary.

For visits after 5 p.m., it is recommended to call us at 507-594-7000 to get an estimate on potential wait time.

Urgent Care holiday hours: New Year's Eve/New Year's Day/Memorial Day/Labor Day/Christmas Eve & Dec. 26, 8 a.m.– 3 p.m.
July 4/Thanksgiving/Christmas Day, closed.