Don't let an injury sideline you.
Need to make an appointment?
Orthopedic Surgery
Orthopedics and Sports Medicine Walk-In Care
Accidents and injuries occur when you least expect it. Mayo Clinic Health System in Mankato provides Orthopedics and Sports Medicine walk-in care for fractures, breaks, sprains and dislocations.
Hours of service:
Monday through Friday, 8 a.m. to 4 p.m. (walk-ins accepted)
We accept same-day appointments — call us today!
What is orthopedic walk-in care?
Orthopedics and Sports Medicine walk-in care is a faster, more cost-effective alternative, compared to the emergency room. This level of care is a great option for patients with orthopedic injuries or conditions that require immediate medical treatment but are not life-threatening.
Injuries and conditions treated
Broken collarbone, acromioclavicular (AC) joint sprain or separated shoulder
Hamstring injury
Injuries that result in pain when moving or are painful to the touch
Lower body injury with inability to bear weight on it
Muscle and tendon strains and ligament/joint sprains
Simple bone fractures
Torn biceps, triceps or quadricep tendon
Wrist and forearm injury
When to visit the emergency room
Seek immediate emergency room service for severe injuries, including:
An open wound over the fracture
Bone that is visible (compound fracture)
Burns to the skin
Serious cuts and deep abrasions
Our team of orthopedic experts has you covered
Whether an injury is sports related, occurs on the job, or happens in everyday life, Mayo Clinic Health System's team of orthopedic providers specialize in muscle, bone and joint care. When needed, our team has access to state-of-the-art diagnostic technology. We also offer the most advanced non-surgical and surgical care options to get patients back to their active lives as quickly as possible.
Call us for your same-day appointment.
Locations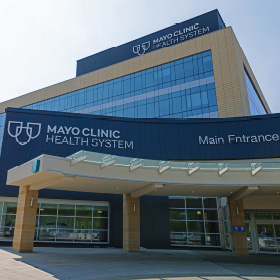 Mankato, MN
Hospital and Clinic
1025 Marsh St.
Mankato, MN 56001