Need to make an appointment?
Oncology (Cancer)
Supportive Care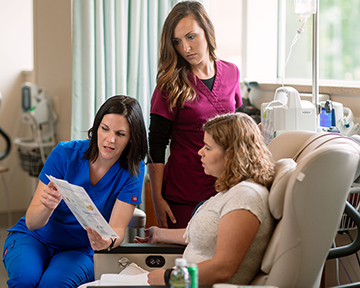 If you are diagnosed with cancer, the following supportive services and experts are available to keep you and your loved ones healthy in mind, body and spirit.
Breast Cancer Care Coordinator - Comprehensive support, guidance and education for patients with abnormal mammogram results, ensuring streamlined care and attentive communication.
Cancer Physicians
Cancer Support Group - Compassionate cancer-related education and support.
Certified Oncology Nurses
Chaplain Services - Care for the emotional and spiritual needs of you and your loved ones.
Dosimetrists
Financial Counseling - Assistance with finance-related questions so you can put all of your focus on healing.
Hospice - If you are facing a terminal illness and no longer pursuing curative treatment, Hospice provides comfort and compassion during your final journey of life.
Nutrition Care - Consultation with a dietitian who specializes in cancer nutrition. The dietitian can help you understand and address your unique nutritional needs as a cancer patient. Once you're feeling better, you and your dietitian can shift your nutritional plan to healthful eating to reduce your risk of cancer recurrence. Ask your health care team for a referral to see a registered dietitian.
Physicists
Primary Care Providers
Radiation Therapists
Social Services - Counsel available to assess your personal circumstances and provide support to you and your loved ones. Your oncology team will arrange a consultation with a social worker as needed.
Related Upcoming Classes and Events View More
Cancer Support Group
Mankato, MN
Virtual