Need to make an appointment?
Hospital and Clinic

Hospital and Clinic
Neurology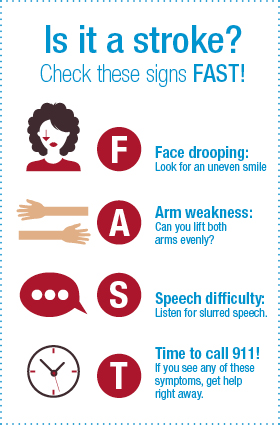 Stroke Care
A stroke occurs when the blood supply to part of your brain is interrupted or severely reduced, depriving brain tissue of oxygen and nutrients. Within minutes, brain cells begin to die. A stroke is a medical emergency and immediate medical treatment is crucial. Early action can minimize brain damage and potential complications. Always call 911 at the first signs of stroke.
Stroke symptoms
Watch for these signs and symptoms if you think you or someone else may be having a stroke. Note when your signs and symptoms begin because the length of time they have been present may guide your treatment decisions:
Trouble speaking or understanding
Paralysis or numbness of the face, arm or leg
Trouble seeing in one or both eyes
A sudden, severe headache
Think FAST and do this:
Face: Ask the person to smile. Does one side of the face droop?
Arms: Ask the person to raise both arms. Does one arm drift downward? Or is one arm unable to be raised?
Speech: Ask the person to repeat a simple phrase. Is his/her speech slurred or strange?
Time: If you observe any of these signs, call 911 immediately.
Related Upcoming Classes and Events View More