Need to make an appointment?
Audiology (Hearing)
Implant Programs in Mankato, Minnesota
If you have hearing loss or impairment, the following implants can optimize your hearing and communication abilities:
Baha Implants
The baha is a surgically implantable system for treatment of hearing loss. The system works by enhancing natural bone transmission as a pathway for sound to travel to the inner ear — thus bypassing the external auditory canal and middle ear. The titanium implant is placed during a short outpatient surgical procedure. Over several months, the implant naturally integrates with the skull bone.
Cochlear Implants
A cochlear implant can optimize your hearing and communication abilities. We seek to provide the framework for children with prelingual hearing impairment to learn to listen and speak, and for adults to regain auditory skills and increase communication. Our program emphasizes education and the emotional and physical well-being of patients and their families, with the goal of improved quality of life.
We collaborate with Psychiatry & Psychology, Otorhinolaryngology (Ear, Nose and Throat) and Speech/Language Therapy to ensure we are meeting your needs as a whole person.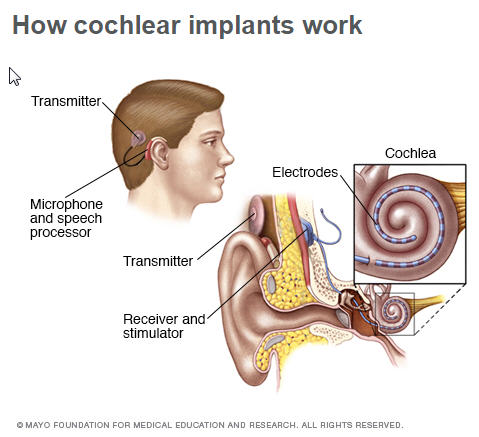 Cochlear implants use an external sound processor that you generally wear behind your ear. A transmitter sends radiofrequency signals to a surgically implanted electronic chip, the receiver and stimulator unit, which stimulates the auditory nerve with electrodes that have been threaded through the cochlea.