Emergency Medicine
The La Crosse Campus Emergency & Urgent Care Center (EUCC) is open 24 hours per day, 7 days per week to meet your needs. The entrance is located on the north side of the Cancer and Surgery Center (southwest corner of West Avenue and Market Street). Parking is available in Lot #1 at the EUCC entrance. We are a Level III Trauma Center as designated by the State of Wisconsin.
The EUCC is a new model of care that combines both Emergency Medicine and Urgent Care. We take the "guesswork" out of your situation and having to decide where to go based on how severe your medical problem is.
Come in our door and you will be triaged by an experienced staff member who will direct you to the most appropriate level of care.
Questions? Call the Emergency and Urgent Care Center at 608-392-7000.
---
Frequently Asked Questions about Emergency Care
What is so different about this emergency-urgent care model?
In the past, patients often had to guess whether they should be seen in the urgent care or the emergency setting. This added another anxiety to the experience. Now, they need only come to one place and a trained medical professional will triage them and ensure they receive care that is appropriate for the complexity of their need. The new space is easy to identify and access from the main thoroughfare, West Avenue.

Will I be able to receive the same services in the new department, as I received in the former Urgent Care department?
Because our Emergency and Urgent Care Center is a licensed hospital-based service, specific regulations require some changes in the services previously provided in our former Urgent Care clinic. Primarily, we can no longer offer "lab only" visits, such as a having just a throat culture done to check for a strep throat infection. In general, all patients who come to the Center will need to be seen by a provider for a medical exam.

What conditions will qualify for urgent care versus emergency care?
Because our Center is a licensed hospital-based service, the criteria are more formal and regulated than clinic-based services. A Triage Nurse will assess each patient, and based on the health condition and established policies, he or she will determine which level of service is appropriate for each patient. Patients with less complex conditions, such as a simple sore throat, earache, rash, pink eye, and the like may meet criteria for "urgent care services," while patients with more complex conditions, such as chest pain, abdominal pain, kidney stone, and so on, would require "emergency services." During peak volume periods, we will provide "urgent care services" using a "fast track" process, which will allow us to be more efficient with our space and our staffing and reduce the length of stay for these patients. Likewise, caring for more complex conditions in the "emergency services track" ensures those patients receive the level of care that they need in a more comfortable, private environment.

What about payments and charges for these various services?
Urgent Care services will be provided at a lower charge, more comparable to "clinic" visits, during designated hours, from 8 a.m. to 8 p.m. We will treat urgent care patients on a 24/7 basis, but between 8 p.m. and 8 a.m., those services will be billed as "emergency visits," and therefore may be subject to the normal ED co-pays and deductibles. Emergency services will be provided at our regular rates and subject to the emergency benefit provisions of the individual's health plan. The complexity of the health condition will determine the level of service, not the "place" where the patient is seen, as it was in the past. Whenever you have a question about what is covered in your health plan, it's best to contact your health plan directly as they are all a little different.

Will urgent care services be available in the middle of the night?
The Center will be open on a 24/7 basis to provide care for patients with urgent and emergent health care needs. The posted hours for our "urgent care service" will be 8 a.m. to 8 p.m., for billing purposes. We believe these extended hours for "urgent care services" will be an added convenience to our patients and provide more options for access to this level of care when needed. Occasionally "urgent care services" are needed in the middle of the night, for example, a baby crying with an earache. This isn't a medical emergency, but may feel like one to the anxious parents. They can now be seen and treated in the Center 24/7. However, when urgent care services are provided in the middle of the night, regulations will require that visit be billed as an "emergency visit" and therefore, may be subject to the normal emergency visit co-pays and deductibles.

What about parking?
There will be designated parking just for patients of the new Emergency and Urgent Care Center, with adequate space for handicapped or special needs patients. There is also a canopy over the entrance, designed to allow patients to be dropped off at the door for quicker access.
---
La Crosse County Falls Coalition
Mayo Clinic Health System Franciscan Healthcare collaborates with the La Crosse County Falls Coalition to prevent falls among all populations, and especially the elderly. Falls are a significant portion of the trauma cases seen across La Crosse County. The coalition web site offers information and resources on fall prevention and safety.


Locations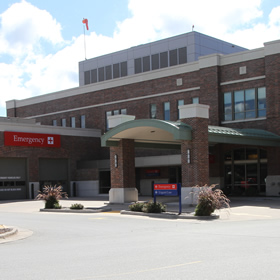 Emergency & Urgent Care Center
700 West Avenue South, La Crosse, WI 54601
Emergency Hours:

Open 24 hours

Emergency care available 24/7/365
Emergency Hours: 24/7/365: