Need to make an appointment?
Primary Care
Primary Care
Primary care is your first resource for health care in Fairmont, Minnesota. It encompasses health services to cover a range of prevention, wellness and treatment of common health conditions and illnesses. It's also where you go for checkups and routine medical appointments.
Health care professionals in primary care include physicians, nurse practitioners and physician assistants. They often maintain a long-term relationship with you to support and manage your ongoing care.
Choosing a primary care provider
Finding the right primary care provider is important, and it's the first step to take as a new patient. Having a primary care provider allows you to establish a trusting relationship with one person who gets to know you and your medical history, and who provides continuity of care for you and your family.
A primary care provider:
Evaluates and treats day-to-day health problems
Advises you on preventive screenings at different stages throughout your life
Follows up with you to explain test results and judge how well your treatment is working
Refers you to qualified specialists when needed
Maintains the big picture of your overall health and treatment needs
Primary Care includes these specialties:
When selecting a primary care provider, you may consider:
A clinic or office location
A specific specialty: Family Medicine, Internal Medicine or Pediatric & Adolescent Medicine
Your medical conditions, perhaps matching your needs to the interests or expertise of the health care professional
To learn about our health care professionals, browse the directory of providers, making sure to select your preferred location.
Check symptoms to reduce worry
Check Symptoms is a free online symptom evaluation tool available 24/7/365. It can give you peace of mind when symptoms start to worry you. Located within Mayo Clinic's patient portal, it allows you to answer a series of targeted questions to evaluate your symptoms and receive a care recommendation.
Locations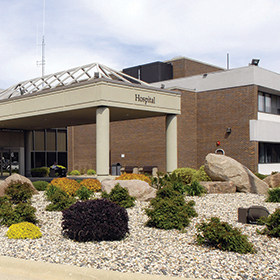 Hospital and Clinic
800 Medical Center Drive, Fairmont, MN 56031
Clinic Hours:

Mon-Fri:

8:00 AM - 5:00 PM

Clinic hours subject to change on holidays.
Same Day Clinic Hours:

Mon-Fri:

10:00 AM - 7:00 PM

Sat-Sun:

8:00 AM - 5:00 PM

Closed for lunch from 12-12:30 p.m. on Saturday and Sunday.

Same Day Clinic holiday hours: New Year's Eve/New Year's Day/Memorial Day/Labor Day/Christmas Eve, 8 a.m.– 3 p.m.
July 4/Thanksgiving/Christmas Day, closed.
Emergency Department Hours:

Open 24 hours