Need to make an appointment?
Rheumatology (Muscles/Joints) in Eau Claire
Our rheumatology specialists in Eau Claire, Wisconsin, diagnose and treat all ages for more than 100 disorders that affect the joints, muscles and bones, including:
Common symptoms which may prompt a visit to a rheumatologist are joint swelling, pain in and around joints that lasts more than a few days, and joint stiffness. A medical history and physical along with blood tests and X-rays are used to diagnose rheumatic diseases.
Treatment can include the use of medications and may involve other health care providers such as physical and occupational therapists, orthopedic surgeons, podiatrists and occupational medicine specialists. Education is critical in understanding these disorders.
Locations
Luther Campus Clinic
1400 Bellinger St., Eau Claire, WI 54703
Hours:

Mon-Fri:

8:00 AM - 5:15 PM
Providers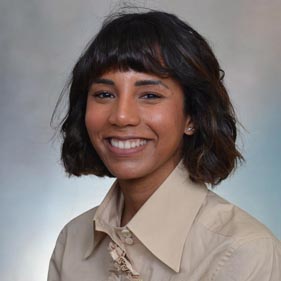 Adria Irina Madera Acosta, M.D.
Rheumatology (Muscles/Joints)