Experience the power of Magnet.
Leading the way in nursing excellence in Western Wisconsin
Nursing Excellence in Eau Claire
More than 2,300 dedicated, skilled staff support the Department of Nursing in the Northwest Wisconsin region. Department of Nursing staff includes nurses, certified nursing assistants, patient care associates, technicians and other allied health roles.
We serve patients in Eau Claire in addition to Barron, Bloomer, Chetek, Chippewa Falls, Glenwood City, Menomonie, Mondovi, Osseo and Rice Lake. Care is delivered across a variety of settings, including hospitals, clinics, and within homes and our communities.
Our primary value — the needs of the patient come first — is a priority for our staff. The nurses and all staff keep patients' needs and outcomes at the forefront of their minds, focusing on quality and service. Our evidence-based approach is consistent, and it's promoted throughout all of our locations. We encourage research, innovation and leadership through participation on various committees and councils, not only within our region, but also throughout Mayo Clinic.
We invite you to consider joining our Department of Nursing team, where nursing is not only our profession, but also our passion.
Search for Department of Nursing career opportunities with Mayo Clinic Health System.
Use the location field to narrow your search by entering a Mayo Clinic Health System site.
To receive job alert notifications, sign up for our Talent Community.
Learn more about nursing in our region:
Nursing research
We provide opportunities for nurses to engage in clinical research to improve the health of patients and their caregivers across the life span and to generate knowledge that supports processes to deliver optimal health care, including:
Nurse scientist
Nurse scientists develop research opportunities for nurses throughout the region and at Mayo Clinic in every aspect of the practice. Nurse scientists engage with physicians and scientists from a variety of disciplines to generate knowledge in fields that span the continuum of care. Opportunities for new knowledge discovery is an important component of Magnet designation, which Northwest Wisconsin hopes to achieve in 2023.
Collaboration with the University of Wisconsin-Eau Claire
In 2017, UW-Eau Claire and Mayo Clinic Health System signed a master collaborative research agreement that created a seamless system allowing UW-Eau Claire student, faculty and staff researchers to work on projects directly with Mayo Clinic Health System staff. The groundbreaking research agreement between UW-Eau Claire and Mayo Clinic Health System unites the strengths of clinical organizations and academic institutions to create innovative research opportunities.
Nursing innovation
Our nurses have access to the latest technology and innovative care models that deliver the safest patient care possible, including:
AI technology to enhance care delivery
eICU monitoring
Project funding opportunities available through the Mayo Clinic Clinical Practice Innovation Program
Virtual nurse (ViRN) care model
Virtual reality in the practice setting and for professional development
Nursing education and professional development
We offer many opportunities for nurses to advance their professional nursing skills, including:
All newly graduated nurses employed at Mayo Clinic Health System in Northwest Wisconsin receive a comprehensive orientation that prepares them for practicing in their nursing specialty environment.
The Nurse Residency Program is a rigorous training program that builds leadership and professional skills, as well as provides supplemental transition support during the first year. The program is based on the standards set by the American Nurses Credentialing Center (ANCC) Practice Transition Accreditation Program (PTAP) for RN residencies.
Career development funding is available to support education to enhance careers and contributions to Mayo Clinic.
Magnet® designation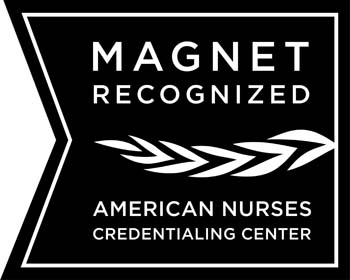 In the nursing profession, Magnet designation is considered the gold standard for nursing excellence by creating a work environment to support the highest standard of care for our patients and our nurses. The ANCC Magnet Recognition Program awards this prestigious designation to healthcare organizations that exemplify professional practice, and continual innovation and improvement in professional nursing practice. Mayo Clinic Health System in Northwest Wisconsin achieved Magnet designation in 2023.
Quality
The nursing care teams at Mayo Clinic Health System in Northwest Wisconsin continuously strive to provide the highest quality of care and safety to patients. Our care quality is consistently recognized by high performance scores on many national ratings and rankings such as Leapfrog, CMS star ratings, HCAHPS and U.S. News & World Report. Mayo Clinic Health System in Northwest Wisconsin also participates in the National Database of Nursing Quality Indicators (NDNQI) and outperforms the national benchmark in a number of nursing specific quality measures. View some of the recognitions and accreditations.
Nursing recognition
We offer multiple ways to recognize nursing staff, including:
Mae Berry Service Excellence Award
Each year, allied health staff from Arizona, Florida, Rochester and Mayo Clinic Health System are honored with this award — Mayo Clinic's highest honor in service excellence. Recipients from across the organization gather with their loved ones, leaders and award creator Leonard Berry, Ph.D., to be honored at a recognition event hosted in Rochester, Minnesota.
Nurse excellence awards
Each year during nurses week, nurses are recognized for their achievements with the Nursing Excellence Awards. Nurses are nominated by their peers in the areas of nursing practice, quality and safety, leadership, education and research.
Nursing certification
Our registered nurses are encouraged to obtain specialty certification, which promotes excellence in nursing care through the national standards of practice. We offer career development funding opportunities that covers the financial investment on behalf of nurses that choose to pursue certification. In addition, all our certified nurses are recognized each year on National Certified Nurses Day, and invited to a formal off-site social and dinner event to celebrate.
The DAISY Award® for Extraordinary Nurses
The DAISY Award, presented in collaboration with The American Organization for Nursing Leadership (AONL), is part of the DAISY Foundation's program to recognize the "super-human" efforts nurses perform. We're proud to be among the organizations participating in The DAISY Award program. It's important that our nurses know their work is highly valued, and The DAISY Foundation provides a way for us to do that. Mayo Clinic Health System is among more than 5,400 health care facilities and schools of nursing in all 50 states, and 33 countries and territories committed to The DAISY Award program. Nominate a registered or licensed practical nurse for The DAISY Award. Based on specific criteria, an RN or LPN will be selected monthly to receive The DAISY Award. Nurses receive a certificate, statue, presentation and more.
Trillium Award
This award recognizes certified nursing assistants, patient care associates and technicians who excel in their role and provide compassionate, competent and proficient care to all patients and families. Honorees from across our regional clinics and hospitals are recognized annually.