Community Engagement
Partnerships and Education
Mayo Clinic Health System works with other nonprofit organizations and government agencies to address community needs. Collaboration allows community partners to maximize resources and achieve better outcomes for the benefit of the community. Our leaders and staff serve on various boards of directors and coalitions in the area. Numerous staff serve the community as members of work groups, task forces and service clubs.
We're pleased to collaborate with:
Boys and Girls Clubs of the Greater Chippewa Valley
Chippewa Valley Free Clinic
L.E. Phillips Memorial Public Library
Pablo Center
United Way of the Greater Chippewa Valley
University of Wisconsin-Eau Claire
If you would like to collaborate with us, email Community Engagement.
---
Community education
Our experts share their knowledge through presentations and speaking engagements, articles and stories, and social media. If you'd like a Mayo Clinic Health System representative to attend an upcoming health fair (Event/Health Fair Request) or an expert to present at an event (Speaker Request), complete the request at least six weeks in advance.
Learn about opportunities to hear from the experts virtually or in a community near you.
---
Project Search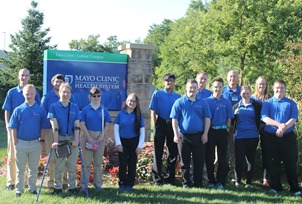 You might meet one of the Project SEARCH interns while at the Luther Campus in Eau Claire. You'll recognize them by their bright blue polo shirts and big smiles.
Mayo Clinic Health System is a proud supporter of Project SEARCH, where students are provided with real-life work experience combined with training in employment and independent living skills, helping those with significant disabilities make successful transitions from school to productive adult life. Each school year, a handful of students receive their education at Mayo Clinic Health System.
In September 2016, Mayo Clinic Health System in Eau Claire welcomed its first Project SEARCH class. These students spend time in a classroom here, but also are introduced to many departments in the organization. Students have real-life experience working in a health care organization and learn many employment skills. Each student is matched with a position/department that fits with his or her skills and interests.
Not only do the students receive hands-on training, but the organization receives the benefit of interns assisting in projects and tasks.
In this video, learn how interns are gaining skills at Mayo Clinic Health System to gain employment:
Get more information about Project SEARCH: