Community Engagement
Hometown Health Grant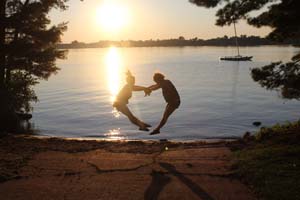 Mayo Clinic Health System believes that health is more than the absence of illness. It includes an environment that supports the physical, emotional and social well-being of those who live, work and play there. In fact, studies show that many of the factors that have the greatest effect on health occur in the community.
We're pleased to offer Hometown Health Grants as part of our investment to improving the health of the communities we serve.
The grant supports innovative efforts that align with 2022 priorities to:
Improve mental health with an emphasis on strengthening community mental health services and suicide prevention, and supporting the resiliency across the lifespan.
Prevent obesity and reduce chronic disease with a focus on reducing food insecurity and increasing public access to physical activity.
Prevent alcohol misuse and substance abuse with an emphasis on youth.
Champion equity, diversity and inclusion with an emphasis on advancing conversations in the community with a focus on rural populations.
The grant works in partnership with community-based organizations and residents to translate their vision for healthy communities into visible, concrete changes and, ultimately, a healthier hometown. Grant recipients are engaged for an entire year, and an outcomes report is required at the end of the funding cycle.
---
Grants will be given in the range of $5,000 to $25,000 to be used between July 1, 2022, and July 31, 2023. Community partners in Barron, Buffalo, Chippewa, Dunn, Eau Claire, Pierce, St. Croix and Trempealeau counties are invited to apply for the Hometown Health Grant.
Review eligibility guidelines below prior to submission. Funding requests should show a relationship to the health issues identified on the application. Please submit a W-9 tax form with the application (required).
We are accepting applications through April 8, 2022. Grant recipients will be notified the week of May 16, 2022.
Email Community Engagement with questions about Hometown Health Grants.
---
Eligibility
Review the eligibility criteria:
Eligible:
Funding can be used to launch new projects and programs or improve programs that already exist.
Lead applicant must have tax-exempt status according to the IRS.
Must apply proposed program within the service area of Barron, Buffalo, Chippewa, Dunn, Eau Claire, Pierce, St. Croix and Trempealeau counties.
Not eligible:
For-profit organizations
Labor or fraternal groups
Organizations whose philosophy or mission is not in alignment or contradicts the mission of Mayo Clinic Health System
Political campaigns, candidates, parties or partisan activities
Religious organizations for support of theological functions
Youth and adult sports leagues
Requests for:

Replacing funds already allocated or available in funded grants
Sole benefit of an individual
Capital campaigns
Endowment funds
Entry fees or pledges
Fundraisers
Projects that are a duplication of an existing service
Reimbursement of expenditures already incurred
Assistance with travel expenses and registration fees
Vehicles, buildings, professional dues, incentives, memberships and construction projects