Need to make an appointment?
Palliative Care
Palliative Medicine at Mayo Clinic Health System provides whole-person care for patients who are experiencing a serious or life-threatening illness. The goal is to prevent and relieve suffering, respecting the desires of our patients as well as their families and caregivers. Palliative Medicine also helps with decision making based on individual and family goals, quality of life and prognosis. Palliative Medicine seeks to improve quality of life in the face of a life-limiting illness.
The Palliative Medicine team consists of a collaborative group of physicians, advanced practice nurses, nurses, chaplains and social workers. Working together, the team builds a care plan that carefully considers the unique needs of each patient.
Palliative Medicine addresses physical and emotional symptoms.
Physical symptoms include:
Breathing difficulties
Constipation
Nausea
Pain
Poor appetite
Poor sleeping
Emotional symptoms include:
Anger
Anxiety
Fear
Frustration
Grief
Loneliness
Sadness
Palliative Medicine can also provide assistance with advanced care planning and do-not-resuscitate orders and bracelet.
A referral is required for Palliative Medicine services. Contact your primary care provider to discuss a referral for these services.
Facility-to-facility video visits
Appointments for Palliative Medicine are offered via facility-to-facility video visits, which reduce the need to travel far and enable patients to receive care close to home.
For a facility-to-facility video visit, patients arrive to the clinic and a nurse connects them with a specialist by live video. Our innovative technology uses a Bluetooth stethoscope, a USB otoscope and high definition cameras that can move and zoom in for a high-quality physical exam and personal conversation with the specialist.
Video appointments are currently offered at select locations in Wisconsin and Minnesota. Learn more about facility-to-facility video appointments.
---
Not all services and procedures are offered in this location. In certain cases, you may be connected to services at other Mayo Clinic Health System locations.
Locations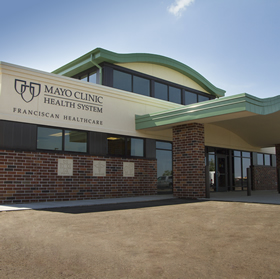 Clinic
895 S. Dettloff Drive, Arcadia, WI 54612
Hours:

Mon-Fri:

8:00 AM - 5:00 PM
Related Upcoming Classes and Events View More
Cancer Support Group
Mankato, MN