Need to make an appointment?
Our dermatology specialists offer the best possible care for your dermatology needs, providing comprehensive care and treatment for all types of skin conditions, including:
Diseases of the scalp, hair and nails
We also provide Mohs Surgery to treat skin cancer. With access to Mayo Clinic research and clinical trials, we are able to apply the most advanced and effective treatment for skin conditions.
Facility-to-facility video visits
Appointments for Dermatology are offered via facility-to-facility video visits, which reduce the need to travel far and enable patients to receive care close to home.
For a facility-to-facility video visit, patients arrive to the clinic and a nurse connects them with a specialist by live video. Our innovative technology uses a Bluetooth stethoscope, a USB otoscope and high definition cameras that can move and zoom in for a high-quality physical exam and personal conversation with the specialist.
Video appointments are currently offered at select locations in Wisconsin and Minnesota. Learn more about facility-to-facility video appointments.
---
Not all services and procedures are offered in this location. In certain cases, you may be connected to services at other Mayo Clinic Health System locations.
Locations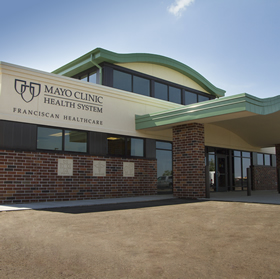 Clinic
895 S. Dettloff Drive, Arcadia, WI 54612
Hours:

Mon-Fri:

8:00 AM - 5:00 PM